We are close to 1.5 years into living with COVID-19, reacting to its multiple variants (alpha, beta, gamma, delta).
The shifts in and out of lockdown across the world have been, at the very least, frustrating to individuals, communities, and businesses. But the whole point is probably for the global population to be able to toggle smoothly and efficiently between the two states – lockdown and pre-COVID normal. This, perhaps, is our new normal with COVID-19 being a time marker for BCE (Before COVID Era) and the CE (COVID Era).
And as we live in these times, I could not help but think of Huxley's imagined future of a totally planned society of alphas, betas, gammas, deltas, and epsilons, who are genetically engineered and live a pain-free life. We are far from that society as the world population struggles with vaccination campaigns and even the wearing of masks to limit the spread of the virus. Not an advocate of Huxley's Brave New World, but I believe we are moving into our very own Brave New World triggered by the pandemic.
This Brave New World is strongly characterized by high tech and high touch.
And these are some trends from the BCE, which will persist and mutate in CE.
Digital migration and expanding digital economy
Life goes on — digitally.
From socializing to business to shopping, the world is compelled to go online, in order for their lives to bear any semblance to that BCE.
In Latin America, 13 million people made their first-ever e-commerce transactions. McKinsey also reports that "social commerce is on the rise as well, with 34 percent of people saying they have shopped on Instagram based on an influencer recommendation."
Powered by tech and personalization, the convergence of social and commerce is an extremely exciting space for the expanding digital economy. It is not a new realization that social interactions convince consumers to buy things. From in-store shopping, consumers could discover products and experiences in groups. The discovery, interaction, and promotion were once thought to not be replicable online when we were at social commerce 1.0. But now, social commerce has evolved to 2.0 enabling a high tech and high touch shopping experience without ever stepping out of the house. Social commerce combines the stickiness of online shopping and the network effects of social media. Social commerce which now makes up 5% of all e-commerce, is projected to take up 19 percent of the $14.7 trillion e-commerce market in 2025, according to ARK Invest.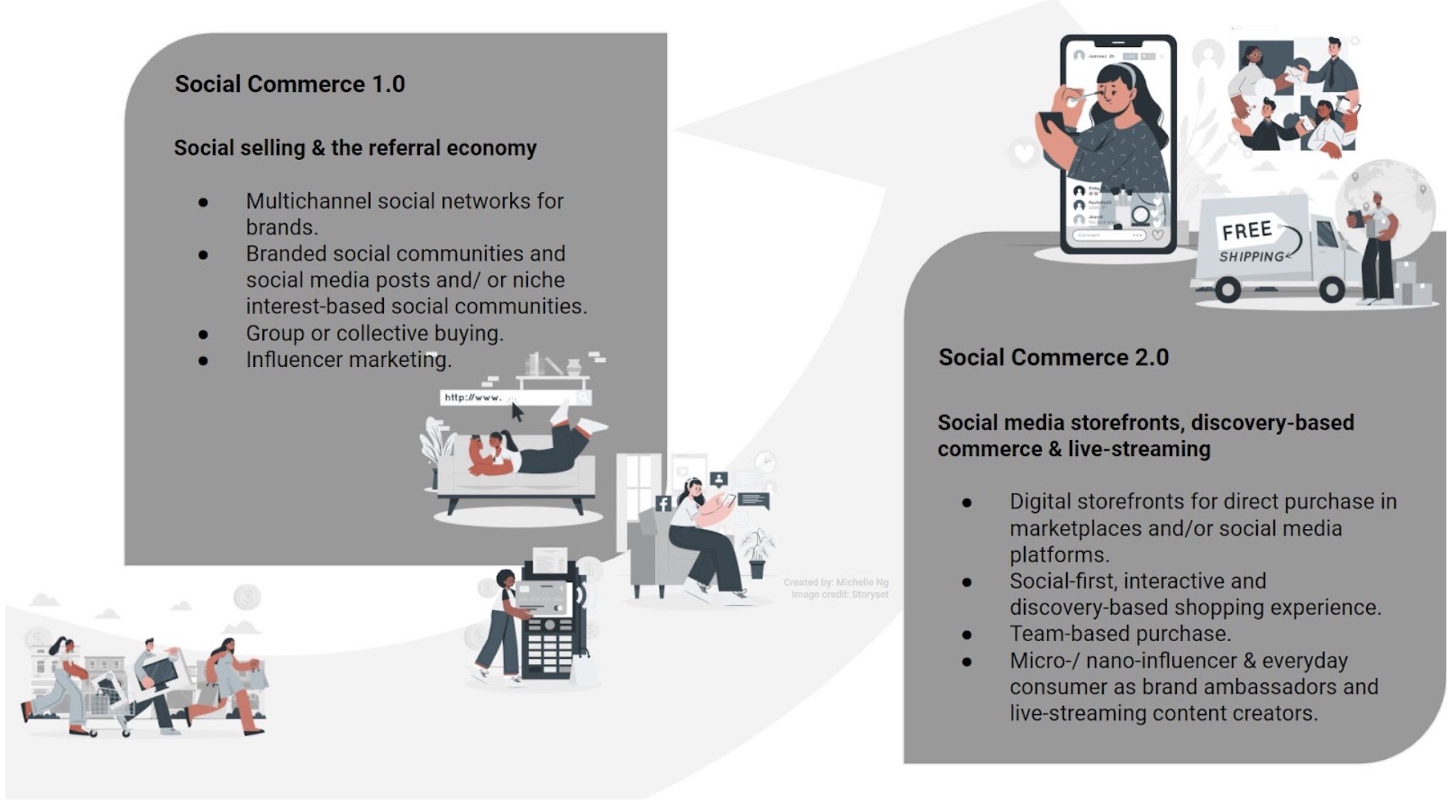 At social commerce 1.0, the model stops at social selling and referral. Ten years ago, while 12 percent of the top 500 retailers have Facebook applications that enable shopping, none has registered significant sales activity as a result. In fact, within the past year, Gap Inc., Nordstrom, J.C. Penney, and GameStop have all opened and closed Facebook stores. General social media posts (influencer marketing and sponsored posts) used to drive traffic to web stores proved ineffective and inefficient in driving conversions too, as consumers need to leave the platform.
Moving into 2.0, social and commerce is layered into the same stack, and the mobile (or any other screens) would be the access point for any consumers to shop and socialize at the same time. Fintech developments to enable payment transactions in social media platforms and online marketplaces had also transformed eCommerce and supercharged social commerce. Consumers can now discover, discuss, deliberate, and make a deal online with their friends and community with the different social commerce challenger models:
Digital storefronts
Purchase can be done directly from online marketplaces and social media platforms. Earlier, we do see more marketplaces layering social for an interactive shopping experience for consumers, but now we are also seeing social companies layering commerce as part of their social commerce play. With the collaboration between major social media platforms (TikTok, Facebook, Instagram) and Shopify to enable in-app purchases, brands would be able to turn their social media accounts into a digital storefront besides creating, running, and optimizing their social media marketing campaigns. The opportunity is huge with TikTok's over 100 million highly engaged users and Shopify's over 1 million merchants coming together for social commerce. The Shop Pay function that Shopify, Facebook, and Instagram are working on also enables a 70 percent faster speed for checkout and sees a 1.72 times higher conversion rate.
Consumer-driven e-commerce and team-based purchase
Consumers are taking the wheel in the newest development of social commerce. Companies are increasingly developing a discovery- and feed-based format for consumers to shop in teams, in contrast with the search-based format of traditional eCommerce. This creates a fun and interactive shopping experience for the consumers to aggregate demand and bargain. At the same time, it enables a Consumer-to-Manufacturer (C2M/C2B) model to bring about better forecasts for manufacturers' production and cheaper prices for consumers.
An example would be China's Pinduoduo valued at $24 billion at IPO and rakes in $38 million every day in revenue. Its C2B model is characterized by buyers putting details of products on sites like WeChat (China's WhatsApp with 1.2 billion users) to get friends and family to buy as a group. The bigger the group, the bigger the discounts available. And the orders go directly to manufacturers and farmers, reducing the price tag and raising profits. According to Techcrunch, "Pinduoduo's annual GMV (gross merchandise volume) surpassed RMB100 billion ($14.7 billion) in 2017, that's around two years since its inception. To hit the same milestone, Taobao took five years, VIP.com took eight years, and JD ten years. Pinduoduo now claims more than 343.6 million active buyers with an annual GMV of RMB 262.1 billion, or $38.5 billion."
Live-streaming
Live-streaming brings social commerce to a new level, as influencers and normal people create content and sell products and services to consumers in real-time. Social media platforms with live video functions, such as Facebook Live, Instagram Live, and TikTok allow some influencers to entertain, take orders, sell and transact in real-time. The fulfillment of the sale is done later at the cost of the sellers or buyers, according to the agreed arrangement. Content from live-streaming is perceived to be more authentic and the real-time interaction between seller and buyer allows for instantaneous responses to questions on the product and services. According to ARK Invest, streaming revenue will reach $390 billion by 2024, more than 3.5x in 5 years. In China, live shopping is already a $137 billion a year industry.
The above are just some examples of the social commerce models. For more, you could take a deep dive into Poshmark, a listco on NASDAQ with a market cap of $3.1 billion, Meesho from India that raised $300 million round led by Softbank, Super from Indonesia that raised USD 28 million from Softbank and Alibaba, and Partipost from Singapore that raised USD 5 million led by Quest Ventures.
The key to social commerce 2.0 is to not sell the same products to the same people with the same advertising and acquisition techniques. As Bain & Company put it, social commerce is paving the way for a more distributed model that's built on community, connection, and trust. And as social commerce advances, we will witness the greater waves of digital migration and expansion of the digital economy.
New command central: Home
The home is now the de facto command central for life, livelihood, learning, and leisure.
The average household in the US has 25 connected devices, and each person in the Asia Pacific has an average of three devices and connections. Constantly connected and engaging with the digital world, individuals live, work, learn, and play in largely the same environment, as a result of the pandemic. The convergence leads to new customer profiles, consumer behavior, and one way to reach them all — home.
Businesses must now find various channels to "break into their customers' homes" and seamlessly deliver a message to one of their screens and/ or their smart devices. Apart from social commerce, where the customers initiate the engagement, connected homes may in the near future enable a two-way discussion between businesses and people. At home, you could make a purchase by conversing with your virtual assistant, hold meetings in AR/ VR spaces, while getting another professional certificate from across the globe in the same space the same day. The future is here.
The control on the physical and digital world that you get from your home is unprecedented and as Paul Chaney wrote in Digital Handshake, we are seeing a melding of electronic and face-to-face interactions, which is now accelerated by COVID-19.
And here we go! Into our own Brave New World, in great hope of value creation in the physical and digital economies as they grow and continuously integrate.
---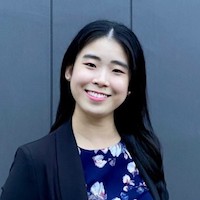 Michelle Ng is Senior Associate at Quest Ventures, a leading venture fund for technology companies that have scalability and replicability in large internet communities. She works closely with startups to accelerate their growth through a combination of incubation services and programmes. She is also responsible for key markets in Southeast Asia and emerging Asia.
TechNode Global publishes contributions relevant to entrepreneurship and innovation. You may submit your own original or published contributions subject to editorial discretion.
What's ahead? Southeast Asia startup and venture capital ecosystems 2021
Featured image credits: Pexels