Life's A Pitch! session 13 concluded on April 29, 2021, and we had six amazing startups that pitched to renowned investors.
Augmenteed (Singapore) – A software platform for designing and building digital workflows for front line technicians at their job site
IPification (HongKong) – A highly secure, credential-less, network-based authentication solution for frictionless user experience on mobile and IoT devices
Singular Capital (Malaysia) – Singular gives you access to invest like an accredited investor- at a Main Street price.
EatForCharity (China) – EatForCharity helps you order the things you love and need, for pick-up, dine-in, or delivery, in your own language, with your own currency, while also helping worthwhile causes.
Keyta (Indonesia) – A conversational commerce tool specially designed and created with online sellers in mind
Showcase (Thailand) – A social selling platform that connects social sellers to brands and suppliers
Thanks to the four VCs who joined in:
Join our next online pitch:
Pitch date: May 27 2021, 1400hrs – 1530hrs (GMT+8)
Registration Deadline: May 20, 2021
Shortlisted Startups will be notified via email by May 24, 2021.
To take part in our next Life's A Pitch session, register here or scan the QR code below.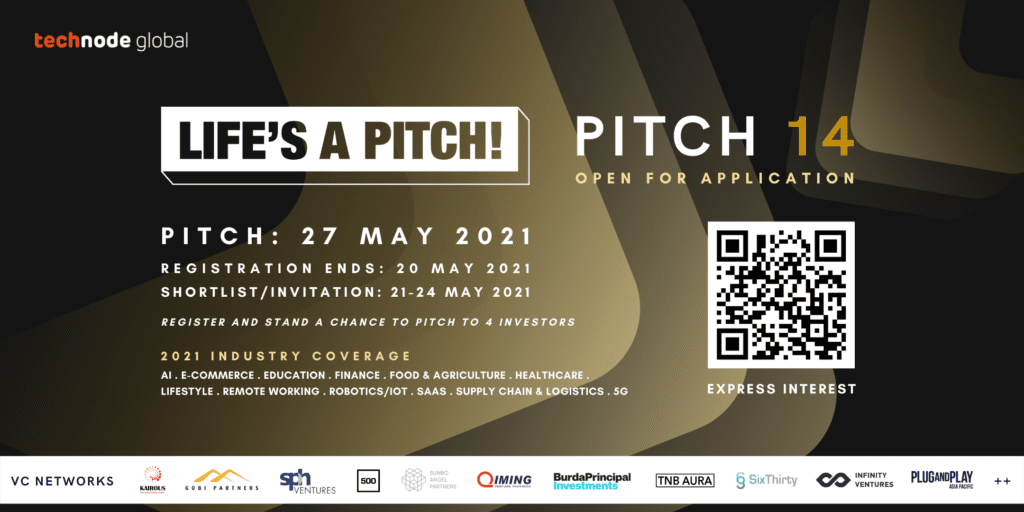 Joining requirements:
Startups raising Seed – Series A
Your startup has existing clients in at least 1 market
Format:
Closed-door private pitch
Face to face with 4 VCs
5 minutes live online pitch + 7 minutes Q&A