Tech Insights Series (Covid-19 special): A bigger playground for digital entertainment and education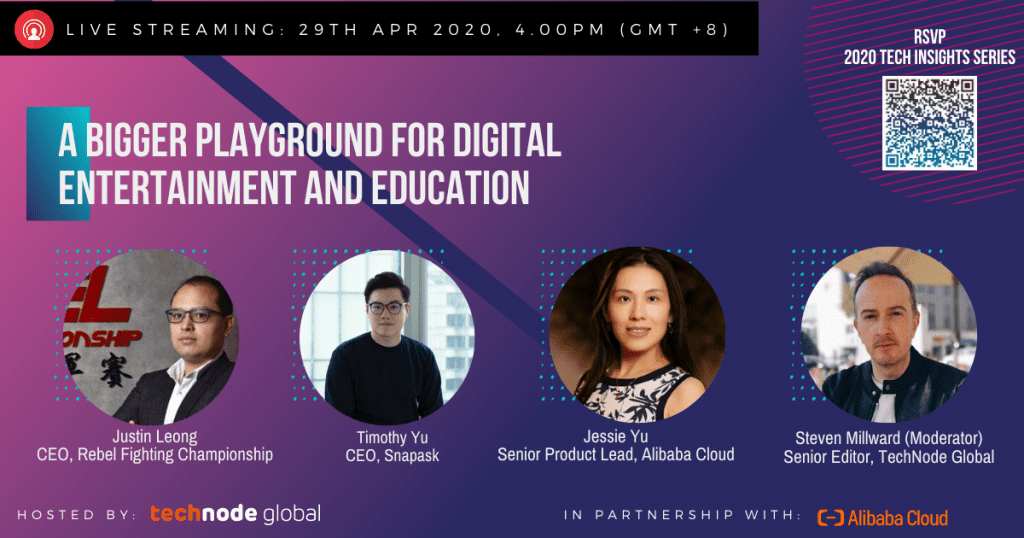 DETAILS:
Synopsis:
From digital education to live streaming, the pandemic has driven people confined at home to spend their time consuming online content. Such products are on a high-growth trajectory, and have seen a surge in downloads and active users. However, companies still need to address a few challenges before they can turn new users into long-term customers.
What is Tech Insights Series?
Tech Insights Series is a community-driven content track hosted by TechNode Global. In each session, we aim to uncover and discuss the latest developments in SEA tech & startup scene. In partnership with Alibaba Cloud, we will be launching a Covid-19 special Tech Insights series to understand the efforts of SEA tech companies who are leveraging technology innovation to remain operational. We hope that the majority of tech companies and entrepreneurs will join us in this initiative.
DATE & TIME:
April 20, 2020, Wednesday
4.00pm – 4.40pm (GMT +8)
LOCATION:
Zoom Webinar. We will be sending the zoom link on the day of the event via email after you have RSVPed on Eventbrite.
RSVP:
The Tech Insights series is open to public audience. Slots are limited and we will close registration once the maximum capacity is hit. RSVP here.
Panelists: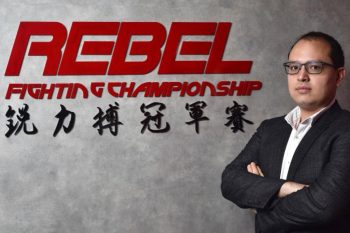 Justin Leong 
CEO at Rebel Fighting Championship
Mr Justin Leong founded Rebel Fighting Championship in May 2013, spurred by his enthusiasm for Mixed Martial Arts (MMA) and an enterprising mindset. He embodies the heart & mind of REBEL Fighting Championship, providing the vision and direction for the organization.
Rebel Fighting Champion is the leader of Asian MMA and will become the #1 ranked MMA organisation in Asia distributed to over 60 countries with television access to 1 Billion homes.
Justin has managerial experience in project management, financial management, financial reporting, budgeting, and was in charge of controlling clients' financial activities in his previous company. Graduated in Singapore with a Bachelor of Science (Hons) in Banking and Finance.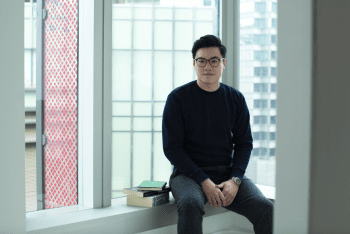 Timothy Yu
CEO at Snapask
After completing his degree in risk management, Timothy decided a career in finance wasn't for him. Instead, he was fascinated by the satisfaction of enlightening students as a tutor. He believes that curiosity is the key to knowledge, and questioning is the best way to learn; 'it begins with a question' became Timothy's motto.
Questioning the efficiency and effectiveness of brick-and-mortar tutoring centres, he began working on an alternative platform to bridge the strong demand for after-class education support with talented but busy university students. Leveraging the convenience of mobile technology, he founded Snapask in 2015. Students can now snap a picture of the question at hand and receive assistance from locally-sourced tutors within 10 seconds. Snapask has garnered strong support from high school students, and is now serving over 2,000,000 students across Hong Kong, Indonesia, Japan, Korea, Malaysia, Singapore, Taiwan and Thailand.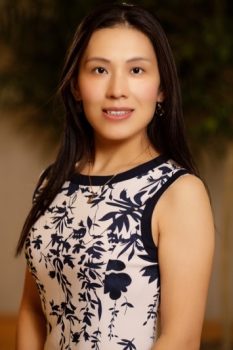 Jessie Yu
Senior Product Lead at Alibaba Cloud
Jessie Yu is a Senior Product Lead at Alibaba Cloud, where she leads the product go-to-market strategy for International Market, including product lifecycle management, growth opportunities assessment, channel enablement and product roadmap planning.
Prior to joining Alibaba Cloud, Jessie was a principle analyst in Frost & Sullivan, a global leading growth consulting firm with extensive coverage in information and communication technologies. She was a sensed, business strategy and technology consulting leader with 10+ years experiences in digital consulting advisory, customer experience strategy, market entry and advisory on technology backed business decisions.
Jessie holds a master degree of social science from National University of Singapore. In her spare time, Jessie enjoys practicing for marathons, going on hikes, and planning for the next adventure with the husband and kids.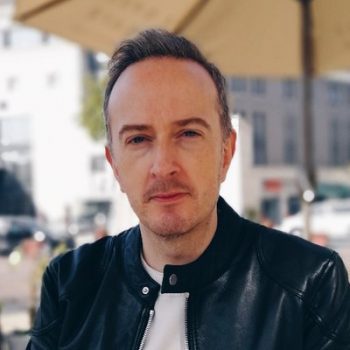 Steven Millward
Senior Editor at TechNode Global
Steven Millward covers the SEA tech startup market for TechNode Global. He is interested in ecommerce, social media, gadgets, transportation, and cars.