In today's ever-evolving IT landscape, the journey from traditional, on-premise data centers to modern cloud environments is one of adaptation and transformation. Initially, organizations relied primarily on traditional on-premise infrastructures. However, as global trends changed how businesses operate and made flexibility and scalability a priority, the adoption of public cloud services came into focus. Soon after, organizations began recognizing the value of integrating on-premise infrastructure with cloud environments. This resulted in the hybrid multi-cloud models we know today where organizations seamlessly blend on-premise infrastructure with multiple public cloud providers.
Technology stacks have evolved in parallel in this backdrop, shifting from infrastructure-centric to cloud and hybrid-centric solutions. This transformative journey has been driven by advancements in IT and the changing needs and demands of businesses as they navigate digital transformation journeys. This evolution reflects the fundamental shift from traditional on-premises data centers to more agile, scalable, and cost-effective cloud-based solutions.
The significance of hybrid cloud today
A hybrid cloud model represents a strategic IT approach that combines the use of both on-premises (private cloud) and public cloud resources within a single, integrated infrastructure. It enables unified and seamless access to data and applications across multiple cloud resources, allowing organizations to harness the benefits of both environments and offering them a more dynamic, adaptable, flexible, and agile IT ecosystem.
With 75 percent of businesses predicted to have cloud at the center of their digitization efforts by 2026, hybrid cloud models remain top-of-mind for both enterprise consumers and IaaS providers. Emerging technologies such as generative AI-led large language models (LLMs) and Web3, and the hyper scalers adopting them, are driving large-scale adoption and will continue to shape the landscape of not just the cloud, but also the data centers and edge infrastructures necessary for operation.
Additionally, a growing emphasis on optimizing and refactoring cloud infrastructure, addressing issues of efficiency, resilience, and cost-effectiveness, and the concurrent shift towards new application architectures is driving the demand for diverse infrastructure. These trends have set the stage for dominance as multi-cloud strategies integrate with advanced technologies such as AI, IoT, and edge computing.
Against this backdrop, the value proposition is crystal clear: hybrid cloud infrastructures deliver the versatility necessary for platform innovation and growth.
Ensuring success through a holistic strategy
While the allure of the hybrid multi-cloud is undeniable, adopting a holistic approach that ensures excellence across elements is critical to success. This hinges on three key pillars: the business strategy, the cloud strategy, and the cloud operating model. The business element comprises the overarching objectives and KPIs that directly impact any cloud choices made by the organization. Once the services and frameworks within a cloud strategy are finalized, aligning the same with the people, processes, and technology mix of the business results in an efficiently curated cloud model that is tailored to run for each function across the business.
It is important to ensure that these pillars are interwoven to address both the technical and organizational aspects of the transformation. Undertaking this in phases can prove beneficial – this includes defining clear strategies across the business and cloud environments and developing a well-thought-out plan that considers how organizations will migrate to the new cloud and how they will modernize their existing applications and systems.
The key to a successful multi-cloud infrastructure
A successful hybrid multi-cloud infrastructure is a carefully orchestrated ecosystem that combines the strengths of private and multiple public cloud providers while addressing security and data management requirements. Having a team that leads with expertise, one that can foresee any potential cost, compliance, and security complications, and help navigate accordingly, emerges as a crucial asset for businesses. For instance, at Tech Data, our dedicated Center of Excellence (CoE) for migration or development has helped businesses across sizes ensure success with hybrid multi-cloud infrastructures. It serves as a dedicated team or organizational unit that provides value-added services at each level, right from planning and goal setting to lead generation to customer engagement.
This collaborative approach is vital in navigating the complexities of modern IT landscapes effectively, while also ensuring alignment with business objectives. By aggregating specialized expertise in cloud technologies, a CoE empowers organizations to effectively manage and leverage the benefits of multiple cloud environments. It conducts performance, security, and compliance standards, controls costs, mitigates risks, and fosters innovation, aligning the hybrid multi-cloud strategy with business objectives.
Moreover, the CoE plays a critical role in sharing knowledge and promoting cross-team collaboration through training programs, scripts, call guides, and partner round table sessions, facilitating smooth transitions and ensuring that the organization reaps the full benefits of its hybrid multi-cloud investments. From a sales perspective, CoE provides sales training that enables partners to effectively position their offerings, accelerating sales opportunities and increasing their speed-to-market so that they can capture new business opportunities.
Enterprises today are racing towards the hybrid multi-cloud model, driven by the undeniable benefits it promises. However, success in this endeavor requires a holistic strategy that encompasses the full scope of an organization's needs, while also considering all moving parts across the entirety of their cloud and the business ecosystem. A holistic strategy not only optimizes cost, enhances security, and ensures regulatory compliance, but also positions organizations for agility, innovation, and resilience. By considering every facet of their hybrid multi-cloud ecosystem and harmonizing business, technology, and operational aspects, businesses can harness the full potential of this transformative IT paradigm, ultimately reaping the benefits it offers in an ever-evolving digital era.
---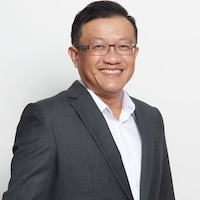 Mark Tan is Tech Data's Vice President and Country General Manager for Singapore. In this role, he is responsible for all aspects of business operation of Tech Data for the Singapore market. This includes sales, marketing, procurement, logistics, and IT functions, as well as its growth strategy and overall performance.
Prior to his current appointment, Mark was the Managing Director for Innovix Distribution in 2017 after managing its commercial and enterprise business unit from 2014 – 2017. He was appointed Country General Manager of Tech Data Singapore following its acquisition of Innovix in 2020.
Mark's career began as a product engineer in Compaq Computers, before moving into sales and marketing. With over 20 years of experience working in Symantec, McAfee, SiS Technologies, and Acer in both local and regional roles, Mark has developed a strong track record in channel management.
Mark graduated from Loughborough University in the United Kingdom with an honors degree in Electronic and Electrical engineering. He spends his free time cycling, playing golf, listening to music, and wine appreciation.
TNGlobal INSIDER publishes contributions relevant to entrepreneurship and innovation. You may submit your own original or published contributions subject to editorial discretion.