For the longest time, the Philippine real estate market has been plagued by inefficiencies of the type you'd expect from most paperwork and process-heavy industries with layers of middlemen. And even with the emergence of what we'll call Proptech 1.0 platforms bringing supply and demand visibility online and other digital tools taking paperwork online, the overall experience for stakeholders along the property transaction journey — not just customers, but also agents and property developers and even banks — remains fragmented.
Such is the nature of innovation development — layers of industry inefficiencies driving the creation of targeted, but fragmented solutions, and then these fragmented solutions creating opportunity for consolidated experiences to come in and offer a significantly better value proposition.
Is the Philippine real estate market now ripe for the next wave of proptech to emerge? We share five numbers that provide some clues to where the innovation compass is pointed in the country's proptech space.
(1) US$22.5 Billion: Proptech has been around but it's ripe for the next chapter
According to the Philippine Statistics Authority in 2022, it's the total gross value of residential real estate and ownership of dwellings with expected yoy growth of 9.9%. This doesn't include the residential mortgage market worth US$17.1 billion with expected yoy growth of 5.4% according to Colliers International.  Even as classifieds platforms (aka proptech 1.0) have been around since 2013/2014 and more proptechs have emerged since then (but only focusing on niche areas like coliving or mortgage), the industry has still remained:
Fragmented: even if you do find a property online, the transaction process still takes place offline and you may need to avail other services to connect you to financing options
Opaque: Distance between developers and buyers have historically created multiple sources of truth for pricing
Painstakingly manual: It traditionally takes 3 months to process a home loan
Proptech 1.0 has only incidentally penetrated 1% of the residential property market, which means there still a lot more opportunity for new players.
(2) 1.17 million households: Demand remains strong despite headwinds
The signs are not just coming from market size and growth. Demand, in spite of a high-interest rate environment, is there. In Q4 2022, a central bank survey revealed that 1.17M households (4.2% of households in the Philippines) have intentions to buy a house and/or lot in the next 12 months, albeit mostly (56%) being attributable to demand for affordable housing.
The first nine months of 2022 saw a 20% increase in units sold in the capital region from the full year of 2021, according to real estate company Colliers. Reservation sales from property developers have increased from 2021 to 2022.
This market has also been growing beyond Metro Manila, with more demand for projects across the country thanks to accessibility created by the completion of major infrastructure projects.
Loan applications, such as those for PAG-IBIG (the Philippine government's home development mutual fund), have increased significantly since 2022. More recently, the fund dropped its interest rate on its 20 and 30-year loans. The government also looks to drive supply up for affordable housing with the 4PH program, aiming to build a million houses per year until 2028.
The residential real estate market has also been expected to return to pre-pandemic levels, driven by employees returning to work in central business districts and looking for living spaces to buy or rent. A large portion of these buyers are also likely to be first-time homebuyers, indicating a robust demand for affordable housing (and financing options as well).
"There's a confluence of new generation demand, long-standing pain points, and lack of a clear go-to platform for end-to-end property transactions that make the Philippines ripe for a more comprehensive proposition. Property developers are also keen to speed things up with greater infrastructure activity in the country bolstered by economic growth and government agendas, and this creates even more incentive for platforms to meet these needs," Kevin Carreon, CEO and founder of MatchHome and a long time real estate and proptech entrepreneur, shares.
(3) US$365 Billion*: Proptech 2.0 is not new, and this is good news
*Baseline value of annual property transactions in Indonesia (in 2020, when Pinhome was founded), taken from the On Call with Insignia podcast
What makes these developments in the Philippines a lot more interesting is that this evolution from proptech 1.0 to 2.0 has already happened in other markets with some clear leaders. In the case of the US, there are the likes of Opendoor and Zillow. China has Lianjia. So far in Southeast Asia, Indonesia's Pinhome remains a leading pioneer in building a full-stack, closed-loop property transaction platform for first time home buyers.
We'll let Dara Dayu Permata, CEO and co-founder, describe Pinhome's ecosystem, as she shared it on the On Call with Insignia podcast: "We have built and continuously improved both our home buying and home services that encompass basically real time transactions. We have the largest property listing multiple listing service as a single source of truth for property transactions."
"We also have an AI powered search and property value estimator, online payment and automated closing. We have full suite SaaS and operations as a service (OaaS) for banks digitizing and simplifying the mortgage journey for property seekers, and we also have fully digitized investment and lending for property agents and developers [throughout the] property supply chain. Last but not the least, we have also built and rolled out on demand home services with natural expansion to home insurance."
What is noteworthy about Pinhome's trajectory since it was launched in 2020 (in the height of the pandemic of all times) is that the market foundations of Indonesia are quite similar to that of Indonesia, in terms of demographics, income profiles, mortgage penetration, and savings tendencies. With the climate being quite similar, there is a case to be made for a similar evolution of business models.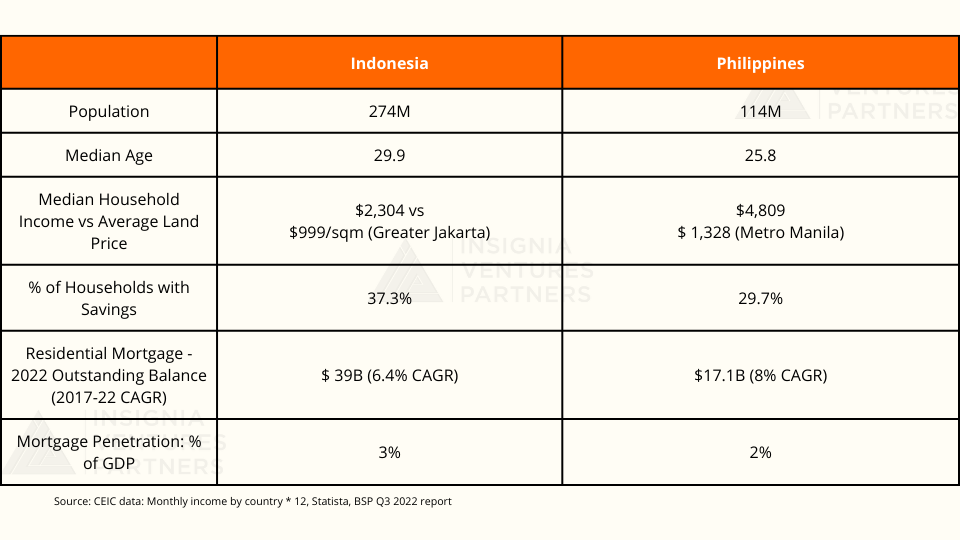 Of course, even with all these patterns, execution makes all the difference. And it's not going to be a walk in the park, with the macroeconomic headwinds, the balancing act across margins and cashflow needed for an ecosystem-type business, and at the end of the day, delivering a superior value proposition to stakeholders. Stay tuned for a future article on what it takes to build a Proptech 2.0 platform! Though you can already tune in to Pinhome's journey in Indonesia from 2020 to 2021 to 2022.
In the meantime, we leave you with another quote from the same podcast with Dara where she paints a picture of how Indonesia's property landscape has evolved over the years — a potential outline for the Philippines' future:
"So a landed house, a typical landed house, residential is around US$30,000 to $50,000…and [there are] 150 million Indonesian millennials and GenZs that are yet to have access to homeownership who are looking to buy their first home like this. And this is what's going to move the entire sector and the entire economy [forward]. And we're very excited about this. The industry goes through cycles."
"For the Indonesia property industry, 2009 through 2015, property was in an upcycle. That was when the price was good, it was a sellers' market. Consumer confidence was high. Employment was high. Money was easy. In 2015 all the way until 2022, it was on somewhat a downcycle, it was a buyers' market, consumer confidence was quite low, but 2022 onwards, we're very confident looking at all the macro indicators. So with rice and commodity prices, among others, we see that these market indicators show a strengthening property sector for Indonesia."
---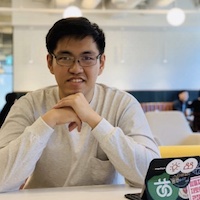 Paulo Joquiño is a writer and content producer for tech companies, and co-author of the book Navigating ASEANnovation. He is currently Editor of Insignia Business Review, the official publication of Insignia Ventures Partners, and senior content strategist for the venture capital firm, where he started right after graduation. As a university student, he took up multiple work opportunities in content and marketing for startups in Asia. These included interning as an associate at G3 Partners, a Seoul-based marketing agency for tech startups, running tech community engagements at coworking space and business community, ASPACE Philippines, and interning at workspace marketplace FlySpaces. He graduated with a BS Management Engineering at Ateneo de Manila University in 2019.
This article was originally published on the Insignia Business Review.
TechNode Global INSIDER publishes contributions relevant to entrepreneurship and innovation. You may submit your own original or published contributions subject to editorial discretion.
Insignia AI Notes #5: Context is king and other learnings from building a GPT-powered website chatbot