Bangkok, Thailand – July 3, 2023 – Techsauce Global Summit 2023, the leading technology conference in Southeast Asia, is set to return to Bangkok, Thailand, on August 16-17. The event aims to foster collaboration between governments, private organizations, and international companies, with a focus on promoting the digital economy and creating opportunities for Thai SMEs and startups to expand globally. Under the theme of 'Social Impact, Climate Technology, and Cutting-Edge Technology,' the summit will take place at the prestigious Queen Sirikit National Convention Center.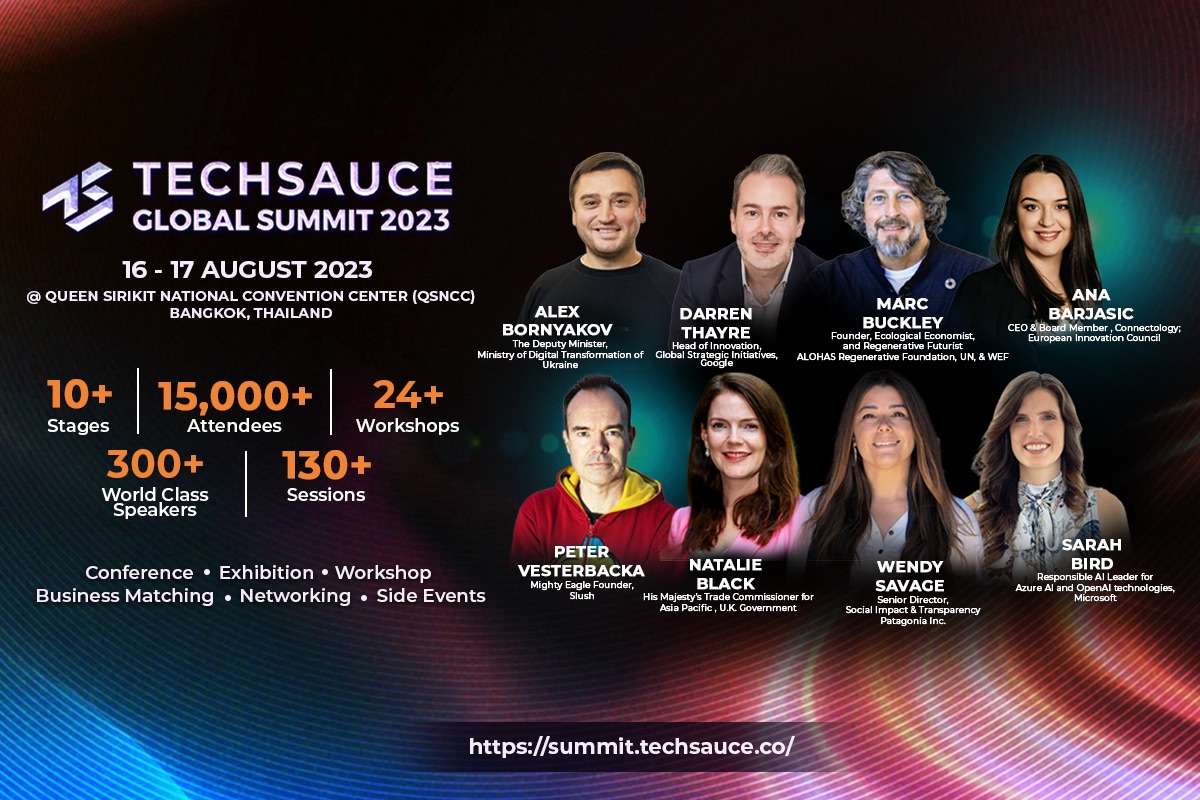 With the support of prominent corporate partners from Thailand and across the globe, including Japan, Hong Kong, Taiwan, Poland, England, France, and many others, Techsauce Global Summit 2023 is expected to attract over 15,000 attendees from 50 countries. The event will feature a diverse lineup of over 300 speakers representing major organizations in Thailand and worldwide.
Among the notable speakers scheduled to share their insights, intelligence, and experiences are industry leaders from various sectors:
Wendy Savage, Senior Director, Social Impact & Transparency at Patagonia Inc.
Alex Bornyakov, Ukraine's Deputy Minister for Digital Transformation
Peter Vesterbacka, Mighty Eagle – Founder FinEst Bay Area & Slush
Sarah Bird, Microsoft's AI Leader and AI Expert
Natalie Black, His Majesty's Trade Commissioner for Asia Pacific (HMTC)
Ana Barjasic, CEO & Board Member, Connectology; European Innovation Council
Prof. Dr. Jong Soo Choi, Head of Information Technology at Samsung Medical Center's Digital Transformation Office
Dan Toma, Entrepreneur of Technology Startups and Founding Partner at OUTCOME
Marc Buckley, Ecological Researcher and Economist, Founder of Regenerative Futurist, ALOHAS, Advisor and Resilient Futurist at UN and WEF
Techsauce Global Summit 2023 will offer an extensive program featuring more than 10 compelling categories, ensuring an engaging experience for all attendees. Some of the highlights include:
Responsible AI: Exploring ethical and socially responsible approaches to overseeing and utilizing artificial intelligence.
Start-up Matching: Providing a platform for connecting customers and partners, as well as fostering collaboration between startups and potential partners.
HealthTech: Showcasing technological advancements in healthcare planning, prevention, and long-term action.
AgriTech: Spotlighting innovations in agricultural business technology throughout the supply chain.
24+ Exclusive Workshops: Offering valuable opportunities for practical learning and experience, with access to industry professionals from diverse fields. Attendees can also benefit from specialized programs such as 'Business Matching.'
"The Techsauce Global Summit is a platform that brings together the brightest minds and innovators from across the globe to drive the growth of the digital economy and inspire technological advancements," said Oranuch Lerdsuwankij, CEO and Co-Founder at Techsauce "We are excited to host this prestigious event in Bangkok once again, facilitating collaboration, knowledge exchange, and business opportunities that will shape the future of technology in Southeast Asia."
For more information about Techsauce Global Summit 2023, including tickets, sponsorship opportunities, and the full event agenda, please visit https://summit.techsauce.co/
About Techsauce Global Summit
Techsauce Global Summit is Southeast Asia's leading technology conference, dedicated to promoting the digital economy and supporting the growth of SMEs and startups in Thailand and beyond. The annual summit brings together industry experts, corporate partners, government representatives, and entrepreneurs to exchange knowledge, foster collaboration, and showcase the latest advancements in technology.