Singapore faces many challenges to its water security and is known for carrying out one of the most ambitious efforts globally to improve water supply. Due to limited land area and natural resources, the country has minimal storage facilities and relies on regular rainfall to sustain its freshwater supply. In the past, Singapore's Linggiu reservoir has suffered from severe droughts, with the most recent dry spell in 2016 shrinking its water levels to 20 percent capacity.
Changing climatic conditions and rising temperatures are adding further pressure. The government has always been vocal about how Singapore is vulnerable to flash floods as well as longer dry spells. This means that we must look for effective water management strategies and alternatives, rather than relying on rainfall.
Water security in the broader APAC region is similarly sensitive to environmental changes. Combined with the increasing rate of urbanization, water demand is expected to rise by approximately 55 percent by 2030. This estimated increase would result in a 40 percent discrepancy between the supply and demand of water resources in the region.
Prominent figures such as Bruno Carrasco, Director General of the Sustainable Development and Climate Change Department at the Asian Development Bank, have emphasized the urgency of water management in combating water scarcity. Given that contamination often stems from improper treatment, enhancing water processing methods is crucial to improving regional water quality.
The impact of non-domestic sectors on water demand
In Singapore, water demand currently stands at approximately 430 million gallons daily, a figure that's projected to nearly double by 2065. The non-domestic sector is anticipated to account for 60 percent of this increased demand.
Recognizing the crucial role that the non-domestic sector plays in achieving water resilience, the Singaporean government has reinvigorated efforts to increase water efficiency within industries.
This commitment was reaffirmed at the United Nations (UN) Water Conference by Grace Fu, Singapore's Minister for Sustainability and the Environment. From 2024, Singapore's national water agency (PUB) plans to impose new recycling requirements on all new projects within the wafer fabrication, electronics, and biomedical industries.
The average recycling rates of wafer fabrication plants and biomedical manufacturing currently stand at 43 percent and 14 percent respectively. Yet, given Singapore's ambitious goal of raising its overall water recycling rate to 70 percent by 2030, these water-intensive industries and other industrial sectors would need to accelerate their recycling efforts.
The status quo of industrial water treatment
Addressing common sustainability goals necessitates an innovative approach to industrial water management. Challenges are immense.
The food & beverage (F&B) sector serves as a prime example, with these manufacturing plants typically consuming significant amounts of water. A range of factors, including food safety concerns and public opinion, discourage many F&B plants from incorporating water reuse and recycling practices. Recycling rates across the industry vary widely, averaging at just 1.8 percent.
Meanwhile, existing wastewater treatment in the non-domestic sector has a considerable scope for improvement. The most pressing issue lies in the byproduct of chemical use in the discharging process, which results in up to 5 percent of pollution in the influent stream. Chemically intensive production processes generate toxic sludge and cause secondary pollution in wastewater. This prevents companies from reusing their industrial water and forces reliance on freshwater supplies.
Furthermore, the energy demands of traditional wastewater treatment processes present another significant concern. As environmental, social, and governance (ESG) values become increasingly integral to the economy, industries ranging from construction to food manufacturing, cooling towers, and desalination are seeking ways to reduce their environmental impact. This shift towards sustainability is pushing demand for innovative green technologies, rendering traditional wastewater treatment methods less desirable.
Among the fast-growing industries requiring substantial water resources is the data center sector. According to a 2022 global market comparison report, Singapore was ranked as the second most attractive market for data center facilities worldwide. With an influx of data-dependent businesses, such as AWS, Microsoft, and Google, Singapore is on track for substantial market growth. However, data centers are well-known for their intensive resource demands, including electricity and water, with even a small 1 MW data center consuming 26 million liters of water annually.
Next generation of green wastewater solutions
My team of scientists and operations specialists, and I have been tirelessly working to circumvent current constraints while developing chemical-free and cost-effective methodologies that can be employed across various industries. We are moving away from chemical reliance, instead utilizing electrochemical technologies to enhance purification performance and water quality.
The two central aspects of electrochemical technologies are electrocoagulation (Hl-EC) and electrooxidation (HL-EO). These technologies effectively reduce up to 95% of pollutants found in wastewater, thereby facilitating water upcycling across numerous industries.
For the F&B sector, such systems have successfully removed 98% of suspended solids, 65% of chemical oxygen demand, 93 percent oil and grease, and 95 percent of phosphate in wastewater. The resultant water not only meets discharge standards but is safe for reuse in manufacturing. On top of this, carbon footprint reduction by nearly 50 percent has been made possible, due to the overall saving of electricity which was previously consumed in the aeration stage.
For data centers, it is possible to save 70 percent of discharged water while providing nearly perfect disinfection, such as removing 99 percent of legionella. This allows industrial players to recirculate water up to 14 times, as opposed to the initial 8 times.
These statistics help paint the picture of the possibilities arising from futuristic technologies for water purification and recycling.
Looking ahead
In order to achieve the sustainable development goals, set for 2030, specifically under the water pillar, Singapore's water management approach involves both leveraging technology and reducing the carbon footprint from water treatments.
The increasing application of automation and less energy-consuming electrochemical innovations, along with emphasis on water management best practices, has a huge potential to speed up Singapore's journey to becoming a success story for the world in enhancing water security.
Over and above, as companies aim to reduce their carbon, water, and space footprints while working on establishing and meeting their environmental, social, and governance (ESG) commitments, it's imperative that they are exposed to the right opportunities and guidelines, something that Singapore has a razor-sharp focus on.
Lastly, collaboration within the ecosystem including research institutions, green tech companies, and government organizations is key. The anticipated growth in water demand necessitates collective efforts from the industrial sector to recycle their wastewater and discover innovative solutions for water supply.
---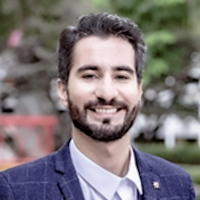 Mohammad (Moh) Sherafatmand is the Chief Executive Officer of Hydroleap, a next-generation wastewater treatment company, headquartered in Singapore. He is responsible for formulating the strategic growth roadmap for Hydroleap and is committed to elevating the wastewater treatment industry. In his early career, he grew an incredible amount of passion for engineering, innovation, and sustainability. These ingredients inspired him to build Hydroleap in 2016 which leverages deeptech to reimagine the way people look at wastewater and the ways to treat it. As a member of Singapore Water Association, he is actively helping solve the country's water challenges. Beyond having over 11 years of professional experience, Moh also holds a PhD (Doctor of Philosophy) in Environmental Engineering from National University of Singapore (NUS), alongside his Bachelor's Degree in Chemical Engineering from Sharif University of Technology.
TechNode Global INSIDER publishes contributions relevant to entrepreneurship and innovation. You may submit your own original or published contributions subject to editorial discretion.
Carbon-absorbing houses are disrupting the centuries-old cement industry