Editor's note: TechNode Global's signature Southeast Asia-focused tech event, ORIGIN Conference, will be held on May 11 as one of the BEYOND Week events in Macao. Join us if you wish to learn more about tech unicorns and the startup scene in Southeast Asia.

---
Malaysia-headquartered used car e-commerce platform Carsome is confident to break even this year, supported by its consistent growth in transaction volume, better margin potential and disciplined cost control measures, its chief executive said.
"We've been seeing consistent growth coming not just from the volume of the transactions but at the same time, the margin potential has also been increasing with the help of retail business and ancillary services," its Co-Founder and Chief Executive Officer Eric Cheng said in a recent radio interview on BFM.
"We have already achieved quite a good level of control when it comes to being more disciplined in looking at how we control costs within the entire business. So all this combined actually got us much more closer to breakeven level," he said.
When pressed about the timeline of such an announcement, Cheng said, "[a] couple of months from now… I believe that by the second half of this year, we'll see something."
Carsome announced in September last year a so-called group-wide accelerated profitability plan which includes job cuts to achieve its target of positive earnings before interest, taxes, depreciation, and amortization (EBITDA) "within the next few quarters".
The plan includes accelerating its integration with the newly-acquired iCar and WapCar ecosystem of companies, as well as "employee base optimization", and automation of processes to further increase group efficiency, Carsome said then.
As part of the "employee base optimization", the Malaysia-based unicorn said it will focus on improving productivity across the business, aligning resources with contributions to the bottom line, and enforcing stricter performance management. It is understood that less than 10 percent of the workforce was affected, according to the report then.
In addition, the executive team is forgoing their salaries for the remainder of 2022 to help contribute to an ex gratia payment for departing team members, the company said then. Carsome currently has more than 4,000 employees across all its markets.
In January last year, Carsome completed its $290 million Series E round, increasing the company's valuation to approximately $1.7 billion. The financing round was jointly led by Qatar Investment Authority (QIA), 65 Equity Partners (65EP) and Seatown Private Capital Master Fund (Seatown). The round also saw strong participation from investors such as Mediatek, Sunway, Gokongwei Group, YTL Group, and Taiwan Mobile.
Carsome has become Malaysia's first tech unicorn as part of a share-swap deal that take a stake in iCar Asia in July 2021.
In Southeast Asia, Carsome competes with Singapore-based Carro, Indonesia's OLX Auto and Carousell Auto Group. One of its rivals, Softbank-backed Carro, announced it has achieved profitability in its last financial year ended March 2022 (FY2022) as revenue more than doubled to S$650 million ($463.49 million).
Cheng said in the interview that its revenue last year surged to $1.5 billion from about $650 million in 2021.
Founded in 2015, Carsome provides end-to-end solutions to consumers and used car dealers, from car inspection to ownership transfer to financing, promising a service that is "trusted, convenient and efficient". It transacts more than 100,000 cars on an annualized basis, which translates to around $1 billion in revenue. It has expanded into Indonesia, Thailand and Singapore.
Besides growing its market share in existing markets, Cheng said Carsome is also looking into new markets.
"In fact, like in the Philippines, we have started a pilot operation. We have a small team in the Philippines that is starting to do [a] test run. I think the early signs [shows] that it is going to be positive just like the markets that we're in," he added.
Besides geographical expansion, he said Carsome is looking to expand vertically, adding more ancillary revenue such as maintenance services and financing services which could also improve its margin potential.
Last year, Carsome has won one of Malaysia's first batch of digital bank licenses, as part of the consortium led by KAF Investment Bank.
Meanwhile, on its postponed initial public offering plan, Cheng said the company wanted to be "ready" to go public.
"As a company we are always ready. I think that's something that we always want to prepare ourselves in the case for the next milestone [which is] to go public," he said. "So the focus remains to be able to put ourselves in the position that when there's a window, we're able to be one of the firsts to go public," he said.
Carsome is said to be delaying its dual listing plans in Singapore and the US on concerns that deteriorating macroeconomic conditions could dent its valuation, Bloomberg reported in June last year. The tech unicorn was expected to raise about $300-400 million at a valuation of about $2 billion for the IPO on NASDAQ, according to earlier reports.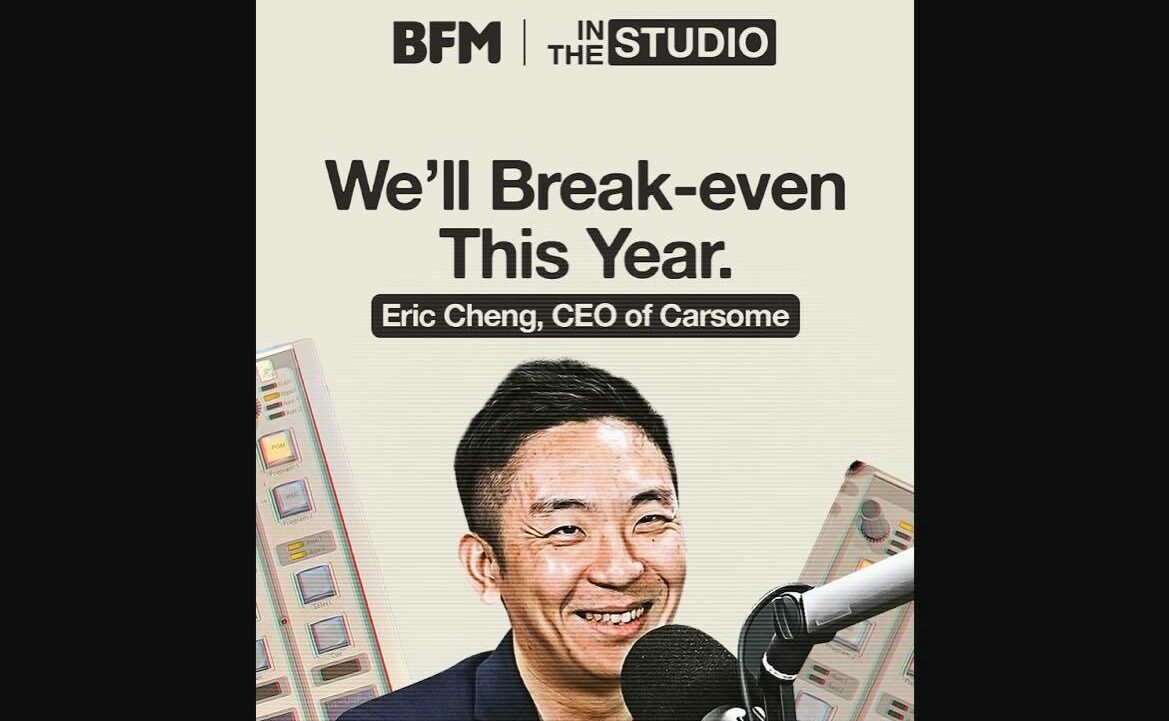 Featured photo credits: BFM
Malaysia's Carsome announces 'group-wide accelerated profitability plan' including job cuts