The logistics industry plays a crucial role in Malaysia's economy as it supports various sectors such as manufacturing, retail, and e-commerce. As various initiatives are in place for the years to come, it is projected that the logistics sector's contribution to gross domestic product will increase to 6.5 percent by 2030 and the total workforce of logisticians to hit 1 million in that same year and will contribute significantly to the country's economy.
The challenges
However, the growth of the logistics ecosystem in Malaysia has been hindered by a few factors including, the low adoption of advanced technology which goes hand in hand with limited expertise and high upgrading costs. Other key factors include the complexity of the delivery route as well as various delivery models catering to different business needs.
With the dawn of Industry 4.0 and increased trust in digital services such as analytics, cloud, and marketing, industry players are increasingly exploring digital transformation to stay ahead of the curve while keeping costs low. The use of online marketplaces, track and trace systems, and automated warehousing solutions are among the technological advancements that have pushed forward the logistics industry in Malaysia. These advancements will not just increase business efficiency and productivity but also improve customer satisfaction.
Having reliable logistics solutions on board will allow the industry to navigate and formulate an efficient and effective logistical strategy for their business as well as product deliveries.
Optimizing technology and innovation in the logistics industry
Using the traditional method of non-real-time dispatch is very time-consuming for dispatchers because of rigid rules and opaqueness to business planners. Additionally, planning routes on a map for thousands of tasks is a complex task, especially for the real-time traffic situation and precision of location
The logistics industry needs to invest in tech-enabled processes that are more complex, accurate, and meet the demand for speedy deliveries and agility of the business. Nowadays, people want next- or even same-day delivery of e-commerce orders, much as they do with food deliveries. With more players entering the market promising even lower delivery rates, the competition will become fiercer. It can improve operational efficiency and reduce costs propelling the digital journey of the business in the industry to the next level.
With e-commerce ramping up big time as online transactions begin trading in higher volumes, the transportation and logistics industry has been pushed to also upgrade and upscale their operations to keep up with demand. It is widely recognized that deploying a traditional method of route calculation is no longer effective as the demand is getting higher. Hence the integration of AI-powered technology and innovations plays a crucial role here, which will help improve operational efficiency and reduce costs propelling the digital journey of the businesses in the industry to the next level
More specifically, helping to address this is EasyDispatch. Designed to improve supply chain management while reducing logistics costs, EasyDispatch is an efficient real-time service dispatch solution incorporating Al-powered, centralized features and Vehicle Route Planning (VRP). With the algorithm trained to achieve optimal results within predefined business restrictions, the smart logistics solution uses the latest reinforcement learning AI and machine learning technology to improve field service dispatch capabilities and efficiency by providing high-accuracy address processing capability and real-time dispatch service.
For example, since the implementation of Alibaba Cloud's EasyDispatch solution, Global Track — an award-winning Malaysia smart logistics system service provider — has received feedback that the software system has helped their clients to reduce processing time by up to 40 percent and workforce reduction up to 30 percent on route planning and also dispatch management. This has sharply increased productivity and efficiency as less workforce and effort is needed on manual processing work.
On the other hand, EasyParcel, a one-stop delivery service booking platform has also improved its logistics capabilities by integrating Alibaba Cloud's cloud-native architecture cloud technologies such as big data analytics, artificial intelligence, and cloud computing. As a result, they have become more efficient and cost-effective, providing better logistics solutions to businesses in Southeast Asia. They have experienced a 55% improvement in efficiency and overall performance, while balancing cost and performance needs.
This smart logistics solution will also eventually help greatly address the issue of manpower shortage with AI technology for the industry players which will help popularise the solution in the industry. The robust cloud-native platform provides the reliability, scalability, security, high performance, operational excellence, and cost optimization that the system needs.
Ultimately, as the logistics industry continues to evolve, the optimization of technology and innovation will play a crucial role in ensuring its success and sustainability. By leveraging advanced technologies and solutions, Malaysia can position itself as a regional logistics hub equipped with a comprehensive range of smart logistics services.
---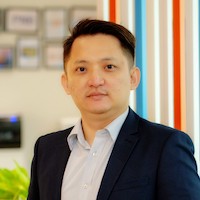 Ngoi Se Keng is Senior Solutions Architect at Malaysia at Alibaba Cloud Intelligence.
TechNode Global INSIDER publishes contributions relevant to entrepreneurship and innovation. You may submit your own original or published contributions subject to editorial discretion.