Events have always been a critical marketing channel in a marketer's toolkit, serving an important strategic function, allowing brands to reach new audiences faster, build personalized relationships and drive continuous engagement for brands.
As one of the fastest-growing markets in the events industry, the Asia Pacific is anticipated to grow at a CAGR of 29.7 percent, registering revenue of $475.0 million by 2028. This is majorly attributed to changing economic growth, rapid digitization, and other technological advancements.
As we approach 2023, the events industry is entering a new phase with a wide range of event formats and technologies. Organizers now face the challenge of creating a captivating experience amidst the complex and fragmented technological landscape.
2023 looks to be an interesting year for all of us, as event organizers and event attendees. Here are some of the key trends and opportunities for those looking to run a successful event in this exciting time.
Hybrid on the rise: go digital-first
The popularity of hybrid events has steadily increased over the past few years. In 2021 alone, in the wake of the pandemic, 59 percent of organizations were running hybrid events and leveraging the strengths of both formats. In 2022, 71 percent of organizations had hybrid events in their portfolio and this number is expected to rise even more in 2023 and beyond.
However, organizing a truly seamless hybrid event is a challenging task for event professionals as it can be difficult to cater to the differing needs and preferences of audiences in virtual and in-person settings.
For those looking to balance between the two types of audiences, a digital-first approach may be the best strategy.  Doing so opens the doors to a more holistic event experience – one that was not possible earlier at in-person events. By allowing event professionals to engage with audiences and attendees before, during, and after the main event through social media, video content, and more, adopting a digital-first event strategy enables them to optimize and enhance the attendee experience while allowing them to easily engage event attendees.
This approach is underscored by the need to effectively integrate attendee touchpoints across both the hybrid and the virtual space. Event organizers and marketers need to hone in and identify the right technology stack that can effectively deliver the experience they want for their attendees without making it needlessly complicated, requiring the attendees to juggle between various event apps and numerous devices.
The new normal of events is one where audiences are demanding to be engaged in a time and format that suits them. Hybrid events seem to be the best way for events in the future, leveraging the powerful and convenient capabilities of technology while allowing for the charm of face-to-face connections to be made. The challenge is for the organizers and marketers to successfully develop and build the right event infrastructure for their attendees to enjoy.
Increased opportunities for environmentally-conscious events
It is increasingly paramount for event professionals to implement sustainability measures in their events. From venues prioritizing green initiatives to event suppliers offering sustainable and reusable solutions to reduce waste, the events industry is stepping up alongside attendees calling for more environmentally-conscious efforts.
According to the annual ICE report, almost 60 percent of respondents believe sustainability to be a key challenge for businesses and events. Running a face-to-face event is said to generate 66 times more carbon emissions compared to a virtual event. Though this is largely due to the reduced venue and hotel energy use and lack of travel from the latter format, there are additional ways to lower the carbon footprint of in-person and hybrid events. These could include the reduction of paper marketing collaterals through the use of QR codes or the use of Metacards or digital business cards to replace the need for the printing of physical badges at events.
Being environmentally conscious is no longer a 'nice to have' perk for events. Instead, it is now an increasing necessity for us to do our part to minimize the impact our events have on our planet.
The mobile app: The perfect companion and addition to your event tech stack
As event technology continues to evolve, the tech stack for events needs to adapt to shifting demands and needs. A rising trend observed is the addition of mobile apps to the event tech stack. The usage of cell phones at events is on the rise, with a survey revealing that more than half (52%) of attendees utilize smartphones while at the event.
Choosing to implement a mobile application for your attendees to use during your event is one of the surefire ways to elevate the attendee experience and launch it into the hybrid space. Of course, organizers should consider and tailor the functions of their event apps to suit their attendees' needs and address key digital touchpoints to engage them throughout the event journey.
Some core functions that event apps could include being able to see a personalized agenda of upcoming sessions and an interactive venue map for event navigation. Additionally, these apps can also be used to enhance the networking experience by making it easier to connect with fellow attendees. At Gevme, we made our mobile event app to serve as the perfect companion for event attendees, giving them plenty of opportunities to be continuously engaging with the event and even the various sessions through interactive elements such as polls and gamification.
A thriving event scene in 2023 and beyond
We're in unprecedented waters in regard to the event resurgence post-pandemic. However, we are certain that these changes, while scary and daunting, present a great opportunity for us to take our events to the next level. Many organizers and brands are already working with these changes in mind, leveraging robust event technology to ensure the seamless delivery of hybrid events.
2023 could be an important benchmark for the events industry to leapfrog to a new and better landscape, and for tech developers and organizers to transform accordingly to excel in this rapidly changing industry.
---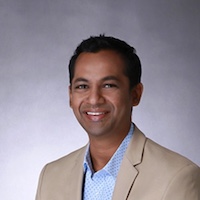 Veemal Gungadin founded GSI in 2006, architected and coded the very first software platform of the company. GSI is today a leading event tech company with offices in Singapore, Australia, India, Myanmar and the US. Having graduated from the National University of Singapore with a degree in Computer Science, Veemal remains at the forefront of technology and spearheads the software products being crafted at GSI. GSI's core SaaS product is GEVME, the award-winning enterprise event ticketing & marketing platform.
TechNode Global INSIDER publishes contributions relevant to entrepreneurship and innovation. You may submit your own original or published contributions subject to editorial discretion.
Engagement is the key to a successful event, says Hubilo's Vaibhav Jain [ORIGIN Innovation Awards Q&A]
Featured image: Unsplash