'Data-driven' and 'digital transformation' have become technology buzzwords, the foundation on which millions of businesses in hundreds of industries are built today. Digital transformation, data, and automation are by no means a pandemic-induced phenomenon, but their influence and adoption have skyrocketed over the past two-and-a-half years.
Whether it's manufacturing, healthcare, or retail, it's hard to imagine businesses succeeding without data. In the hospitality industry, though, the impact of data is often overlooked. However, few businesses have more to gain from data than restaurants, bars, cafes, and hotels. Across the entire Asia-Pacific region, the hospitality industry was hit hard and is still battling with the medium- to long-term impacts of the pandemic. In the industry, successful businesses were traditionally those with the best ingredients, staff, and ambience — but today it can be challenging to stand out without data, too.
So how exactly are technology, digital transformation and data revolutionizing a once-traditional industry in APAC?
Using data to enhance guest relationships
In a world transformed by technology, customer data has become essential for businesses in hundreds of industries. So much so, that data has surpassed oil as the world's most valuable asset. It's the foundation on which the world's leading brands have strengthened their hold on their markets.
Just as Amazon showcases personalized shopping lists and Spotify compiles tailored music recommendations through data and AI, technology can do likewise for restaurants, bars, and cafes. When a guest interacts directly with a venue, for example, via online reservations, QR code menus, or newsletter sign-ups, the business can access data that can be used to better understand their guests, their habits, and how to offer personalized experiences that incentivize loyalty.
Whether a guest is sitting in a venue or ordering from the comfort of their home, by collecting relevant data, restaurants, bars, and cafes can paint a detailed picture of each customer — from their go-to dishes, to their allergies and preferences, how often they order and even their tipping and online reviews. A data-driven guest experience and retention platform, allows businesses to collect and utilize this data.
For example, venues can use it to understand why not to offer oysters to Guest A who has a shellfish allergy; that Guest B is a big tipper; and that Guest C is a first-time diner, but orders online takeaway regularly. Through this data, once-traditional businesses are operating like technology start-ups, targeting customers directly with data-driven, personalized experiences that incentivize loyalty and boost revenue.
Data isn't a nice-to-have, it's essential. In fact, recent data from SevenRooms revealed that 65 percent of Singaporeans say attractive discounts and promotions would encourage them to visit a restaurant or hospitality establishment. What's more, 68 percent hold hospitality venues to a higher standard post-pandemic, with access to technology like order and pay (37%) booking reservations online (33%) and QR codes to view a menu (32%) being the top three demands from consumers today.
Enhancing internal efficiencies
The benefits of data and automation aren't just felt by customers, but by businesses internally too. For businesses — particularly today, faced with global economic pressures and labor shortages — time equals money. The more time businesses spend on mundane, non-revenue-generating manual tasks, the less time they can spend driving value and the exceptional experiences customers demand. This is true for hospitality businesses, too. Through data, venues can automate time-consuming repetitive tasks, so they can focus more on customer-facing and revenue-driving jobs.
Marketing, for example, is an essential task but can be time-consuming if businesses aren't automating it. With approved guest data, though, venues can segment their customers based on common traits and preferences, then use automated marketing to provide these groups with personalized offers and communications. Crucially, because it's automated, it doesn't require mass amounts of time, so businesses can work smarter rather than harder.
Technology, and the data that it collects, can also help businesses overcome one of the industry's most severe challenges today: labor shortages. Technology helps operators do more with less. For example, QR codes allow customers to order food and beverages directly from their tables, reducing the workload for front-of-house staff. Online reservation and waitlist management eradicates a burdensome manual process, and historic data can also help identify trends such as the busiest periods of the week so operators can organize staff and ingredients accordingly.
Some of the leading operators of APAC's hospitality scene — like The Lo & Behold Group, 1-Group, Pirata Group and Jigger & Pony — established their position through the quality of their food and drink. They've also identified that to maintain their position, the guest experience is essential, and data and digital transformation are crucial in driving the meaningful experiences their loyal customers remember, recommend, and return for.
Globally, APAC is recognized as the home of many of the world's premier restaurants, bars, cafes, and hotels. These businesses have innovated to survive over the last two-and-half years, and through data, they can innovate to thrive in the coming years too. As consumer demands have evolved, technology has become critical. Venues that recognize this will lead, while those that stand still will move backward. In an industry many consider traditional, innovation is booming – and data is its secret ingredient.
---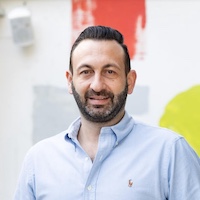 Paul Hadida is the General Manager, APAC at SevenRooms.
TechNode Global INSIDER publishes contributions relevant to entrepreneurship and innovation. You may submit your own original or published contributions subject to editorial discretion.
How Oddle utilizes its expertise in data and O2O in optimizing restaurant delivery and dine-in [Q&A with CEO Jonathan Lim]