Indonesian culinary multi-brand startup Hangry, which raised an additional $22 million for its Series A funding last month, plans to have up to 100 outlets in the country this year while it continues to scout for acquisition targets.
"Currently, we are running more than 80 outlets and we plan to have up to 100 outlets in 2022 in Indonesia's main cities," Hangry Chief Executive Officer Abraham Viktor told TechNode Global in an interview.
The company's expansion will focus on Indonesia first before starting to expand regionally in 2024. "Hangry believes that we have to be the winner in our own region first before we move to expand globally," Viktor said.
"Our priority is the Southeast Asian region as we believe we can be the market leader here. [Meanwhile], the possibility for our products to be accepted in the wider area such as Europe and the US will be larger when we could be able to be perceived as the native brands," he shared.
Hangry announced in April its latest equity and debt funding of $22 million, making it to $35 million in total with Series A equity funding last year. The equity funding portion was led by Hangry's new investor–Journey Capital Partners, with participation from Orzon Ventures, Sassoon Investment Corporation (SassCorp), and other existing investors including Alpha JWC Ventures, one of its first institutional investors. The debt portion was participated by both Genesis Alternative Ventures and Innoven Capital.
Hangry said then it plans to use the funding to drive toward business strategy expansion by acquiring other food and beverage (F&B) brands, building its own brands, and maximizing nationwide expansion.
In the interview, Viktor said the company is looking in many directions for potential brand acquisitions. "[In order] to be a global citizen, we believe we can have as many variations as we like as long as the demand is there."
He also shared the criteria Hangry looks into including a minimum revenue of IDR 150 million ($10,185) per month in each branch, operating in 'Jabodetabek' (Jakarta–Bogor–Depok–Tangerang–Bekasi) or other big cities in Indonesia, the majority of revenue comes from online delivery services, such as GoFood, GrabFood, and ShopeeFood and it has been operating for at least 12 months.
Hangry is the first multi-brand virtual restaurant in Indonesia. Founded in September 2019 by Abraham Viktor, Andreas Resha and Robin Tan, Hangry began its operation in November 2019. Since its first opening, the company has launched multiple brands with large culinary varieties, such as Moon Chicken by Hangry (Korean-inspired fried chicken), San Gyu by Hangry (authentic Japanese cuisine), and Ayam Koplo by Hangry (a new take on various traditional chicken delicacies).
In March, Hangry made its first acquisition of an Indian soul food brand Accha, which operates in Greater Jakarta and West Java. Viktor said Accha will be gradually available in each of Hangry's outlets in every city.
"We are still in the process of integrating all supporting equipment and more surprises will come. Together, including Accha, Hangry will build our brands for the world," Viktor added.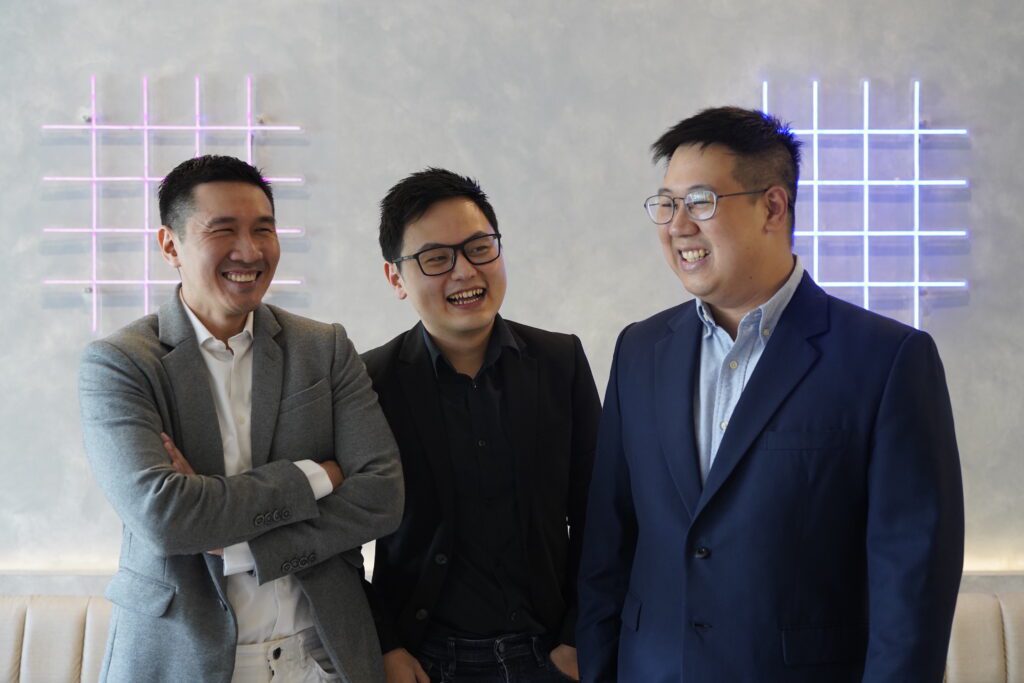 To implement more tech-driven solutions like 'robot cashier'
As a full-stack tech culinary company, Hangry develops proprietary technology which can be used in both the customer-facing as well as the back-end part of its business.
For example, it has developed in-house demand prediction engines that can help to reduce wastage, improve service level agreement (SLA) and also optimize our operations end to end.
"Technology has enabled us to grow by collecting feedback from the customers and translating it to the development of our business, communicate with customers, including rewarding them with loyalty points just by a simple QR scan (through the Hangry App or website), enabling us to serve our customers better," he shared.
"We plan to implement more technology-driven solutions for our business in the future. We are currently developing an automation process by building a robot cashier whereby it will enable us to have a real-time order process from the delivery platform order (i.e. GrabFood, GoFood, ShopeeFood) to our cashier point of sale (POS) and
kitchen display system (KDS)," Viktor said.
This will also bring time efficiency to increase our SLA, avoid human error in the process of inputting and preparing the order, and help to improve and simplify our menu management process, he added.
Based on the Momentum Works report, Food Delivery Platforms in Southeast Asia, the size of the Indonesian food delivery industry is $3.7 billion and it will grow at a compound annual growth rate (CAGR) of 12.2 percent to $8 billion by 2024, driven by adoption and spend per user. Viktor said the ongoing 'three-horse race' between the incumbent food delivery platforms will spur more investment into this sector and also encourage its growth of this sector.
"We see that the opportunity for Hangry is still huge. Therefore, we want to come to more cities this year and in 2023 to reach more customers. While the main challenge for us is the consistency of our products. Making sure that the quality, taste, and service of each of Hangry's brands or products will be the same among all of Hangry's outlets," he added.
Indonesian culinary multibrand startup Hangry raises additional $22M for Series A funding