After record-high levels of global IPO activity in 2021, volatile market conditions have resulted in a significant slowdown during the first quarter of 2022, according to EY, an audit and advisory firm.
The year started off strongly, continuing the momentum of Q4 2021, with January producing the strongest opening month in 21 years by proceeds.
However, by the second half of the quarter, worldwide stock market declines shifted the trajectory dramatically in the opposite direction, resulting in a significant drop in overall activity. For Q1 2022, the global IPO market saw 321 deals raising $54.4 billion in proceeds, a decrease of 37 percent and 51 percent year-on-year (y-o-y), respectively.
The sudden reversal can be attributed to a range of issues, both emerging and residual. These include the rise in geopolitical tensions; stock market volatility; price correction in over-valued stocks from recent IPOs; growing concerns about a rise in the commodity and energy prices; impact of inflation and potential interest rate hikes; as well as the COVID-19 pandemic risk continuing to hold back a full global economic recovery.
In line with the sharp decline in global IPO activity there was a considerable fall in cross-border, unicorn, mega (proceeds above $1 billion) and SPAC IPOs. There were also a number of IPO launches postponed due to market uncertainty and instability, according to EY.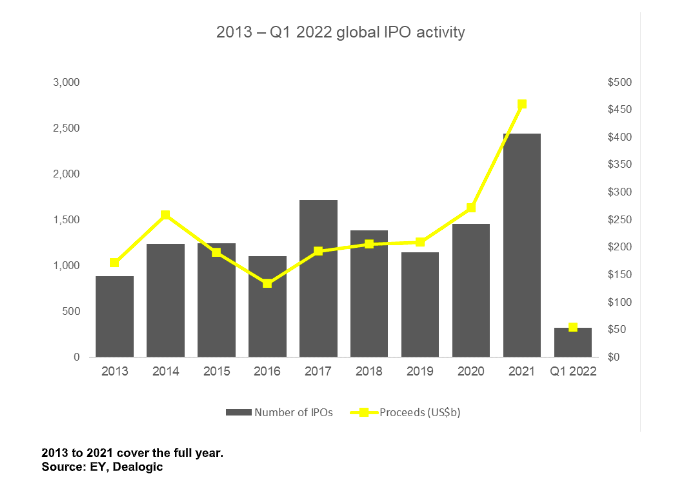 Overall regional performance
IPO activity in the Americas region completed 37 deals in Q1 2022 raising $2.4b in proceeds, a decline of 72 percent in the number of deals and a 95 percent fall in proceeds YOY. The Asia-Pacific region recorded 188 IPOs raising $42.7 billion in proceeds, a decline y-o-y of 16 percent for volume, but an increase of 18 percent in proceeds. EMEIA market IPO activity in Q1 2022 reported 96 deals and raised $9.3b in proceeds, a decline y-o-y of 38 percent and 68 percent, respectively.
"While markets continue to be volatile, and uncertainties on economic recovery remain for reasons including continuing concerns around COVID-19, there is a risk that IPO activity will continue to slow further with IPO candidates choosing to postpone their transactions. Companies need to be well prepared to access the market when the window opens, likely for a shorter timeframe, and include a careful review of business models and preparation of alternative fund-raising plans," Paul Go, EY Global IPO Leader said.
Asia-Pacific IPO proceeds rose 18% in Q1 2022 benefiting from mega IPOs
The Asia-Pacific region started the year strongly with an 18 percent rise in proceeds y-o-y, despite a 16 percent decline by deal numbers in Q1 2022. Four of the seven mega IPOs in Q1 2022 globally were listed in this region, including two of Q1's largest IPOs by proceeds. The region saw 188 IPOs raising $42.7 billion in proceeds, surpassing Q1 2021 which had raised the highest Q1 proceeds in 21 years. In terms of sector activity, industrials led by volume (40 IPOs, $3.3b), followed by materials (37 IPOs, US$5.3b), while energy and telecommunications led by proceeds ($11.2 billion via 8 IPOs and $8.5 billion via 3 IPOs, respectively).
Greater China saw a 28 percent decline in deals (97) and a modest 2 percent rise in proceeds (which raised $30.1b) y-o-y. Hong Kong saw notably slower IPO activity due to recent market volatility, a severe outbreak of Omicron cases and a relatively bigger fall in the local stock market indices. While Mainland China also saw a small decline in deal numbers, proceeds rose YOY due to hosting three of the seven mega IPOs in Q1 2022.
After the largest number of IPOs seen in 2021, Japan's IPO activity slowed in Q1 2022, with a number of small-cap IPOs coming to the market. Overall Japan saw 15 IPOs raise $0.2 billion in total proceeds.
South Korea carried its strong IPO momentum from 2021 into January 2022, with Korea Exchange's largest-ever IPO raising $10.7 billion. IPO activity was slower in February, prior to South Korea's presidential election in March. In Q1 2022, Korea saw 19 IPOs with total proceeds of $11.2 billion, a 21 percent decline in deal numbers but a 368 percent rise by proceeds.
Asean exchanges deal numbers jump 32%, but proceeds down 57%
Asean's exchanges saw a 32 percent increase in deal numbers (29 IPOs in Q1 2022, up from 22 IPOs in Q1 2021), but a 57 percent decline in proceeds ($1 billion in Q1 2022, down from $2.4 billion in Q1 2021). The notable decline in proceeds was due to the lack of a mega IPO being posted in Q1 2022, compared to 1 mega IPO a year ago.
During this quarter, Indonesia's IDX was most active by deal numbers (12 IPOs raising $219 million), while Malaysia's exchanges led by proceeds ($362 million via 5 IPOs). In other Asean exchanges, Thailand's exchanges saw 5 IPOs raising $228 million, the Philippines Stock Exchange had 4 IPOs raising $201 million while Singapore's Catalist welcomed 3 IPOs raising $17 million.
Americas IPO markets pale in comparison to Q1 2021
IPO activity in the Americas region weakened this quarter in comparison to the record-breaking Q1 2021, with deals down 72 percent (37 IPOs) and proceeds falling by 95 percent ($2.4 billion). Health and life sciences led the number of deals while a single large deal drove financials to lead by proceeds. In the Americas, the materials sector followed by number of deals, driven solely by the smaller Canadian exchanges (CSE and TSX-V), while health and life sciences ranked second by proceeds.
The pace of SPAC IPOs and mergers slowed amid challenging market conditions. Activity is expected to pick up as the year progresses because more than a quarter of the 600+ active SPACs expire later this year and more than 60% expire in the first half of 2023.
Brazil's IPO market ground to a halt in 2022 as dozens of companies canceled or postponed deals. Volatility in the Brazilian market is expected to continue with elevated inflation and interest rates, and a fragile fiscal position, coupled with upcoming elections and consequences from geopolitical tensions.
EMEIA's IPO market affected by market volatility
Recent elevated market volatility from geopolitical tensions unsurprisingly impacted Europe, the Middle East, India, and Africa (EMEIA) equity markets and subsequent corporate activity. Many IPO candidates in the region postponed their IPOs until a clearer picture emerges on the economic outlook. Overall EMEIA saw 96 IPOs, a decline of 38 percent y-o-y, proceeds raised were $9.3 billion, a 68 percent decline y-o-y. On a more positive note, the global financial markets remain open and functioning despite the continued uncertainty.
In the first quarter of 2022, Europe accounted for 15 percent of global IPO deals and only 5 percent by proceeds. Two European exchanges were among the top 12 exchanges by deal numbers and by proceeds raised. Deal numbers in Europe were 47 with proceeds of $2.7 billion raised. In the UK, the slower pace of IPO activity was due to a dip in investor confidence from Q4 2021 that carried into 2022. Q1 2022 saw eight IPOs in the UK with total proceeds of $113 million, a y-o-y decline of 60 percent by deal number and a dramatic 99 percent fall by proceeds.
Shift in sector performance
The first quarter saw some slight shifts in sector performance partly due to the changing economic environment and market conditions, according to EY. Both the technology and materials sectors led by number of IPOs with 58 each, raising $9.9 billion and $5.9 billion, respectively. This was followed by industrials (57 IPOs raising US$5b). Technology continued its dominance by deal numbers for the seventh consecutive quarter (since Q3 2020) but ranked second by proceeds – breaking a streak of seven consecutive quarters raising the highest IPO proceeds since Q2 2020.
In Q1 2022, energy took the lead in terms of proceeds ($12.2 billion via 15 IPOs), driven by Q1's largest IPO on the Korea Exchange, while telecommunications came third ($8.6 billion via six IPOs) due to Q1's second-largest IPO on the Shanghai Stock Exchange.
EY: Asia-Pacific M&A hit highest value on record, fuelled by technological innovation & ESG agendas