Malaysia-headquartered used car e-commerce platform Carsome Group plans to build more used car refurbishment centers in Malaysia, Indonesia and Thailand as the company expects the demand for pre-owned cars to continue growing in the next few years.
"We are expanding in the three countries together, Malaysia, Indonesia, Thailand. Our target is to have more footprints in three countries to cover all the customers' demands," ​​Carsome Certified Chief Executive Officer Mei Han said in a virtual press conference.
He, however, declined to disclose the timeline and the investment amount for the plan.
Carsome has on Tuesday launched the so-called Carsome Certified Lab in Malaysia, which claimed to be Southeast Asia's largest car refurbishment facility. Spanning over 185,000 sq ft, the Carsome Certified Lab is able to refurbish up to 2,000 cars a month, covering at least 30 car brands.
On the prospects of the used car industry in the region, Mei said he expects the demand will continue to grow healthily in the next few years.
"In Southeast Asia, every year the trade of used cars is around $60 billion. And due to the pandemic, the global demand for used cars has been higher. We believe that demand will continue to be very healthy in the next few years,' he added.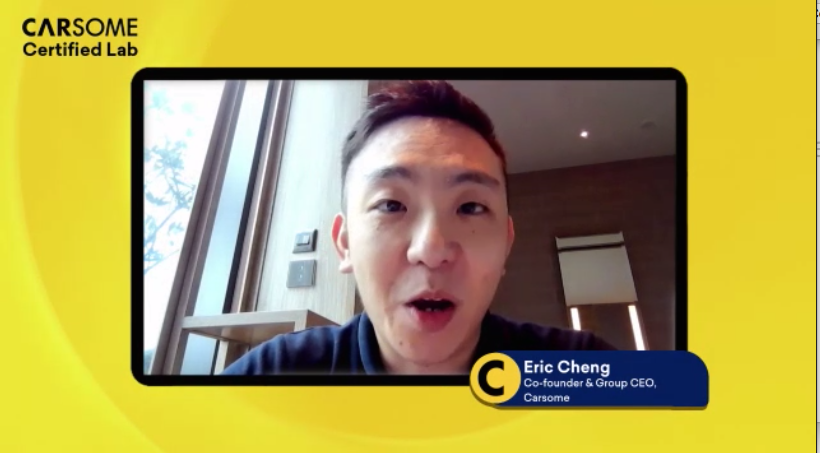 Meanwhile, in his welcoming speech, Carsome Co-Founder and Group CEO Eric Cheng said the company's vision is to create the most trusted car ownership ecosystem that is powered by technology and data.
He said the company has recently set up Carsome Academy, which provides technical education to workers in the automotive industry.
"We can upskill the technicians in the industry, professionalize the overall industry standard and elevate it to the next level of how you think about the used car market. These are all powered by data and technology. We integrate that into our physical infrastructures and the facilities. And now that has helped us to reinvent the way how people think about buying and selling and even owning a car in this region," he added.
Carsome, Malaysia's first tech unicorn, announced in January the completion of its $290 million Series E round, increasing the company's valuation to approximately $1.7 billion.
Last month, Carsome also announced it has completed the acquisition of the remaining 80.1 percent stake in iCar Asia from the Catcha Group and other shareholders of iCar Asia, a listings and content automotive platform in Southeast Asia.
Upon the completion of the acquisition, Carsome became the sole shareholder of iCar Asia.
Founded in 2015, Carsome provides end-to-end solutions to consumers and used car dealers, from car inspection to ownership transfer to financing, promising a service that is trusted, convenient and efficient. It transacts more than 100,000 cars on an annualized basis, which translates to around $1 billion in revenue. It has expanded into Indonesia, Thailand and Singapore.