Pakistan is the world's fifth-largest country with a population of over 225 million. This large population has the advantage of being relatively young. Pakistan has a median age of 22.8 years, which means a large potential workforce to help drive the economy. Internet penetration in the country is also on the rise, with more than 100 million 3G and 4G users. Startups can take advantage of Pakistan's massive potential not only as a market but also as a source of talent and fresh business ideas.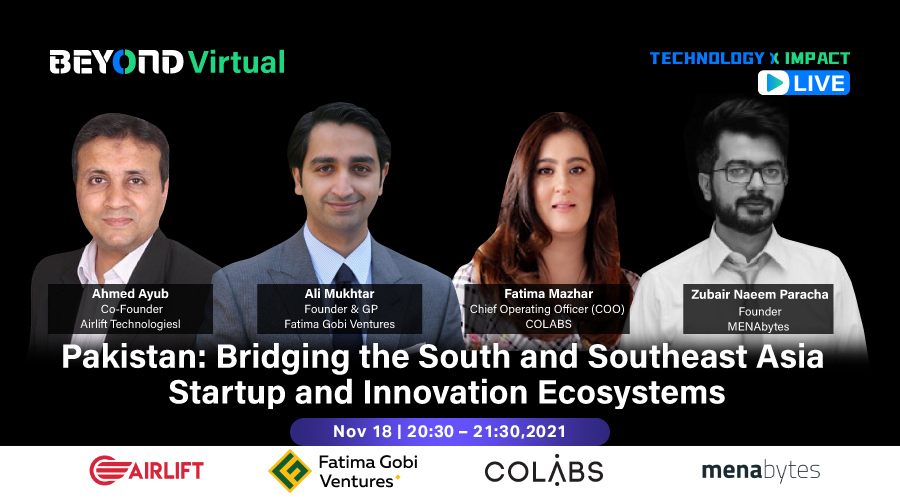 This session the following panelists:
This November 18 session of Beyond Virtual invited three leaders from leading startups in Pakistan to discuss how the Pakistani startup ecosystem can improve especially in view of the viability seen in exploring opportunities in the Southeast Asia market.
Here are the highlights of the discussions.
Pakistan has seen an acceleration in startup investments over the past 12 to 18 months. The year 2021 is expected to bring in more investments compared to the previous five years combined. Venture capital investments to Pakistan are projected to hit $200 million.
Pakistan is a late adopter of 3G and 4G, but it is already progressing fairly well with around half of the population already using these technologies.
There are roughly 2 million Pakistanis living in other countries, particularly in the west. They are expected to help bring in the talent and capital into the country to help foster and guide startups towards success.
There is growing optimism in Pakistan's startup ecosystem, as the majority of the capital inflow is coming from foreign investors particularly from Silicon Valley, MENA, Southeast Asia, and Chinese funds.
There is a call for the Pakistani government to improve support to startups. It takes a while for companies to be established. Opening a bank account for a company can take weeks and sometimes months. There have been improvements, but the government can do more to help Pakistan's startup ecosystem flourish.
The Pakistani government can attract more investments by lowering taxes for startups or offering tax breaks to them. A more supportive government can significantly drive growth in Pakistan's startup market.
Pakistani startups rarely go international. However, with international capital pouring into the country, expanding internationally for startups is no longer just a pipe dream. Southeast Asia and the rest of South Asia are good markets to explore. Pakistan can learn a lot from India's experiences in establishing and growing its startup ecosystem.
The hottest industries for startups in Pakistan are not that different from those in other countries or regions. FinTech, e-commerce (both B2C and B2B), logistics, education, and healthcare are among them.
Pakistan has a lot to offer to investors and can be a good starting ground for startups. There is still a lot of room for improvement, particularly when it comes to government support, but all in all, there are many reasons to be optimistic about the country's startup ecosystem and the potential for international expansion.
"Both in terms of local appetite and foreign appetite, we're definitely seeing an increase of both investment capital as well as capital from the region. So I think with startups beginning to make an impact locally in the lives of people, I think it's giving a lot more confidence to people on the ground to invest." – Ali Mukhtar

"Basically, we are a replica of what India was like a few years back and I think our problems and solutions and the potential to bring the startup budget are very very similar." – Ahmed Ayub

"So I think Pakistan has an amazing pool of talent. I believe that the population makes it so that we have a lot of internet penetration and we are all fast learners, so a lot of technology adoption…I think people are starting to recognize the talent and the opportunity in Pakistan and of course, the first few people that invested in Pakistan have seen good results and all these investments are coming." – Fatima Mazhar
Startups Driving Inclusive Innovation in the Philippines [BEYOND Virtual Panel recap]