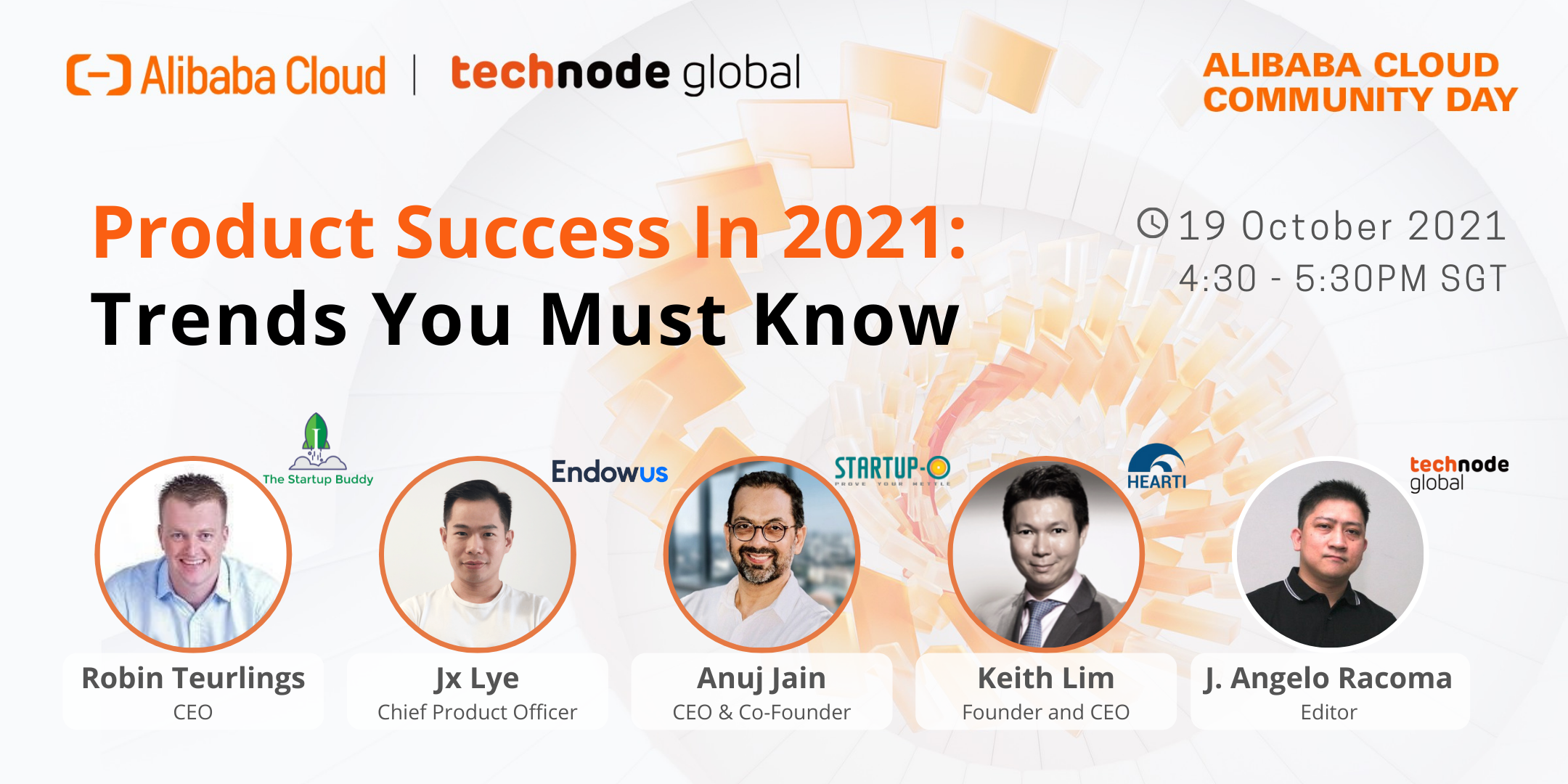 DETAILS:
About this Event:
Product Management, the intersection between business, technology, and user experience, is instrumental in achieving business goals. Through this exciting and informative webinar, our subject experts will share fresh perspectives, trends, and actionable insights for all product companies.
Join TechNode Global and Alibaba Cloud for a free interactive webinar to learn about key trends to elevate your product game and stay competitive ahead.
DATE & TIME:
October 19, 2021, Tuesday
4.30pm – 5.30pm (GMT+8)
AGENDA:
4:30pm – 4:40pm: Welcome Remarks by Alibaba Cloud & TechNode Global
4:40pm – 5:30pm: Panel Discussion and Q&A on Product Success In 2021: Trends You Must Know with
RSVP:
This webinar is open to the public, RSVP here. 
PANELLISTS: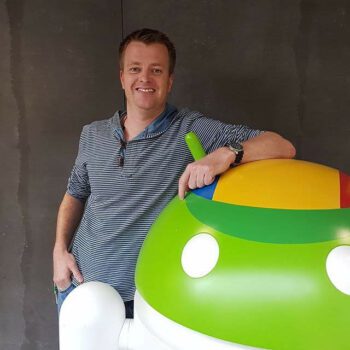 Robin Teurlings 
Founder & CEO | The Startup Buddy
Born in The Netherlands, Robin moved to Singapore in 2015. He started his first enterprise at the age of 12 as a street musician. Using those earnings he bought his first stocks at the Amsterdam Stock Exchange at age 17. At 21, he did my first angel investment. He started Singapore's largest online startup builder and through The Startup Buddy's online accelerator platform and events they have supported 2500 entrepreneurs and 1250 investors in 100 countries to build new sustainable businesses.
Robin holds a master's degree in public policy and public administration. He has worked for over a decade in startups as well as large corporations like Accenture and ING. His motto is "work hard, play hard, do what gives you energy".
---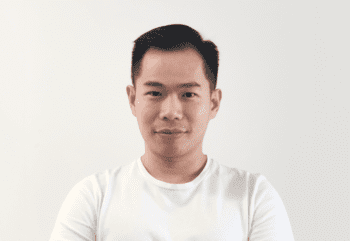 JX Lye
Chief Product Officer | Endowus
As Chief Product Officer, Jx leads the Product Management, Design and Operations teams at Endowus. Endowus is known for its highly-rated mobile app and intuitive web experience, which allows clients to seamlessly invest their CPF, SRS and Cash in one single platform — the first of its kind in Singapore. This accessibility is layered with a strategic integration with UOB Kay Hian, Singapore's largest broker, to implement a secure double-ledger system to ensure utmost security and safety to our client assets.
Prior to joining Endowus, Jx began his career at the Singapore Economic Development Board, where he advised global technology companies to invest and grow their operations in Singapore. Following this, he spent an extensive period of time in Silicon Valley with high growth companies like Dropbox and Lyft before moving to China to pioneer Bytedance's internationalization efforts. His experience in these fast-moving companies has helped scale Endowus' product and technology capabilities exponentially, at an optimal pace to drive growth and deliver on the best client experience as a digital wealth platform.
---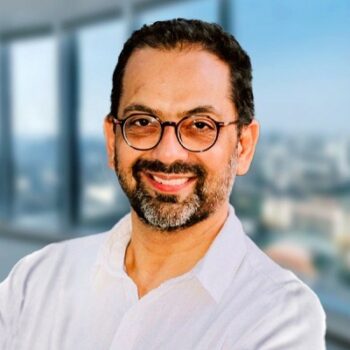 Anuj Jain
 CEO and Co-Founder | Startup-O
Mr. Anuj Jain is the Chief Executive Officer and Co-Founder of Startup-O, is a global venture platform for startup discovery, investments and scaling. Anuj specializes in engineering growth & enabling entrepreneurs. He has over 20 years of experience in 'go-to-market strategy & commercial roles with FMCG majors like Procter & Gamble, Glaxo SmithKline Beecham, Wipro & BIC.
He reinvented himself in the startup economy in 2013, with a successful expansion of a SaaS platform and leading a series of structured boot camps training over 200+ startup founders. Since then he has developed a strong connection with various nodes of the global startup community. He is an active contributor, speaker & mentor at various tech forums. Anuj lives with his family in Singapore since 2002.
---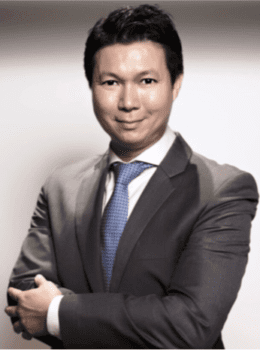 Keith Lim
Founder and CEO | Hearti Lab
Keith Lim is a Founder and CEO of two technology companies and a Venture Capitalist and MNC corporate leader. Keith started his career with banks and consulting companies. His last corporate role was with Moody's Analytics as Managing Director for Asia Pacific. In 2012, Keith co-founded Mezzofy, which was a fast growing mobile payment platform in Asia with strategic partnerships with Alipay China and Bank Mandiri Indonesia. Mezzofy was subsequently acquired by a global leader in coupon management.
Following Mezzofy, Keith founded Hearti Lab. Hearti is an Artificial Intelligent and Blockchain platform for insurance companies. With Hearti, insurance companies are able to offer innovative products, 24/7 customer service chatbots, efficient claims management, smart fraud detection and seamless payments.
Keith is also a partner with TGV 4, a technology VC fund that invests in blockchain companies globally.
---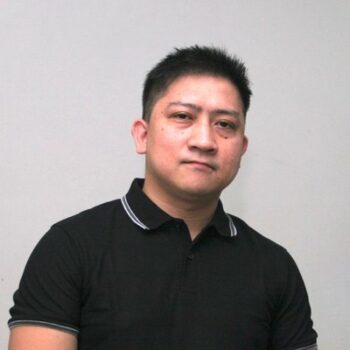 J. Angelo Racoma (Moderator)
Editor | TechNode Global
Angelo is a technology journalist, editor and blogger with a passion for emerging standards and communications channels. He has managed and written for a variety of publications in technology, enterprise, social media and business niches. He is currently involved in the technology startup scene as the editor for TechNode Global, and actively looks for connections, success stories, pitches and leads.
Prior to venturing into online publishing, Angelo also served the public sector as an economist, after which he ventured into IT as a brand manager and application developer. He has also done freelance work as a social media strategist, columnist and speaker.