Are you a startup based in Southeast Asia with an MVP and looking to fundraise from seed to post series-A round? We invite you to join us this year and get the right connections to propel your vision forward!
Our panel of investors is from the region and has active funds as well as networks that can potentially help you grow and expand. Express your interest to pitch at Life's A Pitch! and we will match you with the right investors so that you get a higher chance of securing your fundings.
This year, we will make sure that you get a 1-1 follow-up with the VCs to who you pitch.
Register today: https://forms.gle/eM53Kvv4eK69dDAB6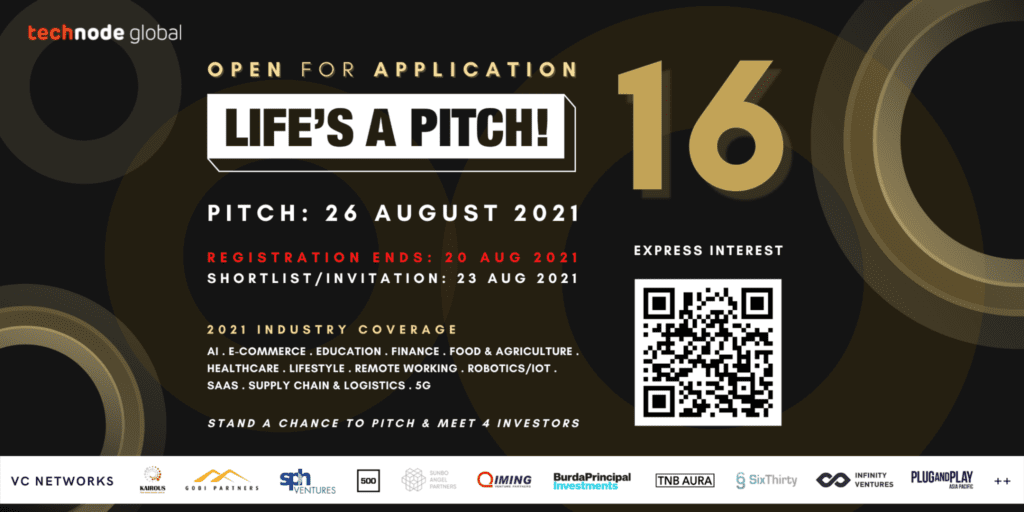 We welcome startups who are operating within any of the following domains:
AI
E-commerce
Education
Finance
Food & Agriculture
Healthcare
Lifestyle
Logistics
Remote Working
Robotics/IoT
SaaS
Supply Chain
5G
Join our next online pitch:
Pitch showcase: August 26, 2021 | 1400hrs – 1530hrs (GMT+8)
Registration Deadline: August 20, 2021
Shortlisted startups will be notified via email by August 23, 2021
Register today: https://forms.gle/eM53Kvv4eK69dDAB6