Singapore-based biotechnology company MiRXES announced on Thursday it has raised $77 million in Series C funding to accelerate its push to deliver cancer early detection tests and preventive healthcare globally.
This brings the total amount secured by MiRXES since its inception in 2014 to $120 million, which marks the largest funding to date raised by a Singapore-headquartered cancer diagnostics company, the company said in a statement.
This Series C funding is led by CR-CP Life Science Fund, joined by global healthcare investment firm Rock SpringsCapital and Singapore-based global investor EDBI, and financial institutions from the United States, Singapore, China, and Hong Kong including, among others, CCBI and Keytone Ventures.
This latest round also values the biotech firm at over $500 million and could pave the way for a public listing, The Business Times reported.
Quoting people familiar with the matter, the Singapore-based news portal reported that MiRXES is considering going public in biotech hotspots such as Hong Kong or the United States.
The company declined to comment on its IPO plans or valuation, but its Co-founder and Chief Executive Officer Lihan Zhou said that MiRXES is planning to tap additional capital for its upcoming pipeline of several different cancer test kits in the next 18 to 24 months, according to the report. He, however, did not rule out the possibility that the financing could come from public markets.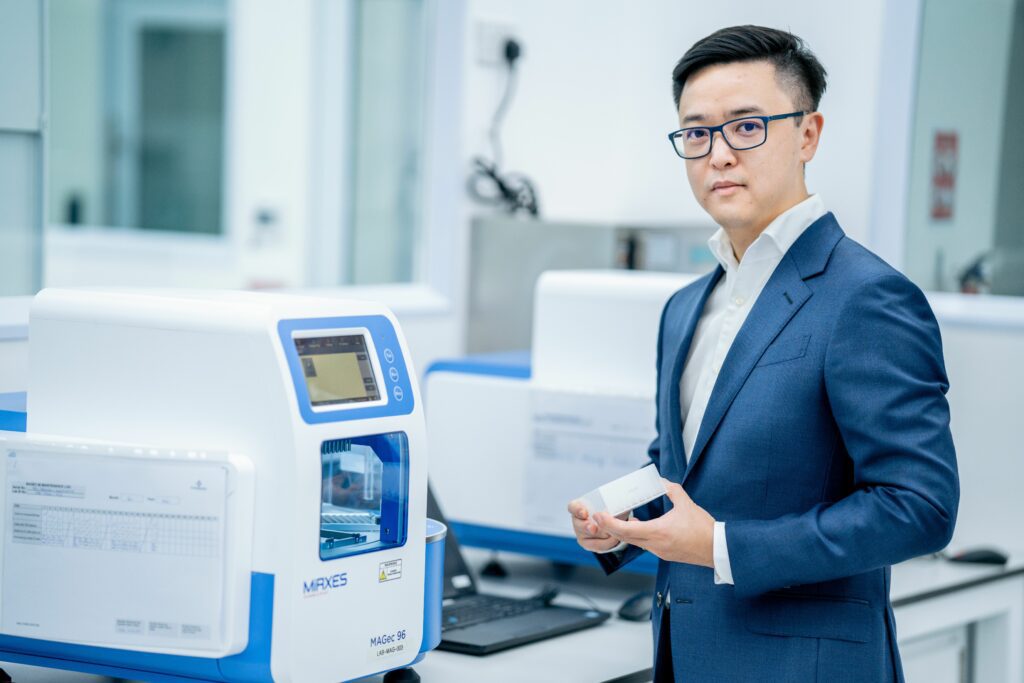 "With this fresh funding, MiRXES will bring forward our plans to deliver a comprehensive portfolio of non-invasive screening tests for early detection of six major cancers, and to expand the use of our platform RNA technology for cardiovascular, metabolic, and infectious diseases research and diagnostics globally," Zhou said in the statement.
The new investment will be used primarily to fund the development and commercialization of MiRXES's pipeline of multi-cancer early detection tests that look for blood-borne microRNA and other molecular signatures released by cancer and immune cells, MiRXES said.
MiRXES currently collaborates with leading academic and clinical institutions in Singapore, the United States, China, Italy, and Japan to conduct large-scale clinical studies on lung, colorectal, liver, breast, pancreatic cancers with a total enrolment of more than 30,000 participants.
MiRXES will use the new funding to accelerate regulatory approval and adoption of GASTROClear, the world's first RNA-powered blood test for the early detection of gastric cancer, in China, Japan, and selected countries in Asia, Europe, and Americas.
MiRXES's China operation is launching a 12,000-strong prospective clinical trial to seek registration of GASTROClear as a screening test with China's National Medical Products Administration.
In markets where the product is approved, MiRXES is working with healthcare, insurance, and laboratory partners to enable greater accessibility of GASTROClear.
MiRXES is also doubling its global talent pool to 400 staff over the next two years with significant build-up in research and development, data science, and commercial teams in major markets.
Founded in 2014 as a spin-off from Singapore's Agency for Science, Technology, and Research (A*STAR) with strong support from the National University of Singapore (NUS), MiRXES is a developer of RNA-powered tests for disease early detection, with strong pipelines in multiple cancer types, as well as in cardiovascular, metabolic and infectious diseases.
MiRXES is headquartered in Singapore, with operations in China, Japan, and the US, as well as commercial activities in over 45 countries globally.
MiRXES launched GASTROClear in 2019. MiRXES's multi-cancer early detection pipeline includes screening tests for lung, colorectal, liver, and breast cancer.
CR-CP Life Science Fund is a joint venture set up by China Resources Group and Charoen Pokphand Group, one of the largest private Thai conglomerates. The fund is mandated to invest in life science companies that develop innovative drugs and therapies, medical technology, and smart healthcare technology.
China Resources Group is a Hong Kong-based conglomerate, and it ranked 79th of the Fortune Global 500 enterprises in 2020.
Together with its subsidiaries, CP operates across many industries ranging from industrial to services sectors, which are categorized into 8 business lines covering 13 business groups including agro-industrial and food, retail and distribution, media and telecommunications, information and communications technology, property development, automotive and industrial products, pharmaceuticals, and finance.
Investing since 1991, EDBI is a Singapore-based global investor in select high growth technology sectors ranging from information & communication technology, emerging technology, healthcare, and Singapore-based companies in strategic industries.
Rock Springs Capital is an investment advisory firm that pursues an investment strategy focused primarily on investing in companies in the healthcare and healthcare-related industries. The investment activities of Rock Springs Capital are led by a team of well-known healthcare industry investors with significant experience investing together.