Understanding Asia's Healthcare Technology Shifts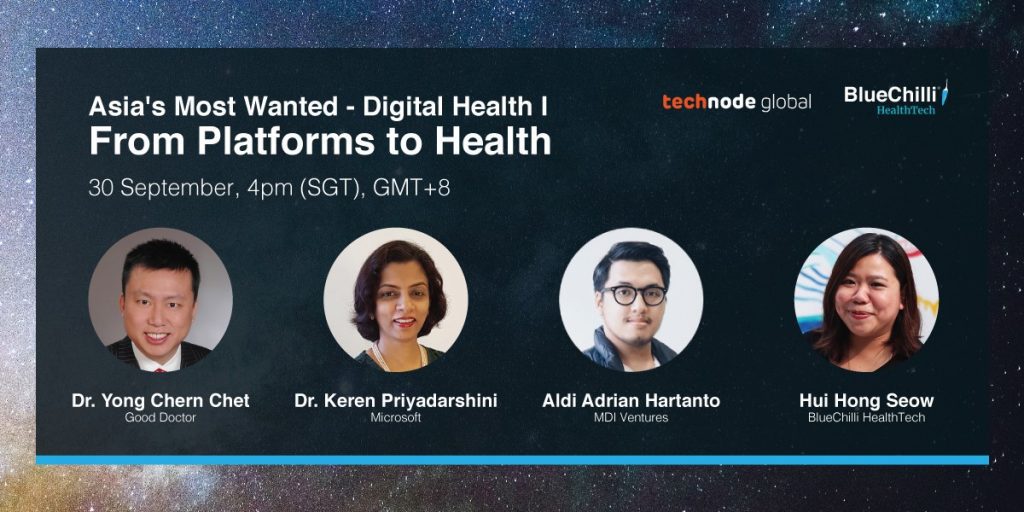 DETAILS:
About this Event:
How are platform businesses moving into or accelerating expansion to meet rising healthcare needs in Asia? Digital platforms have come to be part of our everyday life from connecting with others, to transport to making a financial transaction. In the wake of a new normal with COVID-19, we have seen an exponential increase in the population turning to digital solutions for their health needs. According to the World Health Organisation (WHO), at least 58% of countries surveyed use telemedicine to some degree to replace in-person consultation and triaging. Beyond telemedicine, the rapidly growing demand from consumers, employers and governments for digital health, has opened up a window of opportunities for fast movers to introduce and scale solutions. In this session, we will discuss specific health opportunities these businesses are breaking into, their insights on the regional market demands and their perspective on the most promising developments to come.
What is Asia's Most Wanted – Digital Health?:
TechNode Global in collaboration with SEA's leading HealthTech Accelerator, BlueChilli, has specially curated Asia's Most Wanted – Digital Health. The campaign is a 3-part special series focusing on the HealthTech trends and developments in the Asia region. With 2 intriguing webinars and 1 invigorating pitching event that will see prominent healthcare experts and entrepreneurs take shape and discuss the latest disruptions and ideas, the campaign aims to shed some insights into this hot industry.
DATE & TIME:
September 30, 2020, Wednesday
4.00pm – 5.00pm (GMT+8)
TALKING POINTS:
What are tech and platform companies doing in these days to capture the rapidly growing demand for digital health services?
More than just Tele-medicine, how is HealthTech branching out into the expansive variety of services and who is paying for our healthcare needs and the continuous management of our health?
What are the market demand insights from regional markets and how are we addressing the challenges to cater to the rising demand?
How is the industry evolving and what opportunities lie ahead?
LOCATION:
Zoom Webinar. Registrants will receive the zoom link in your inbox prior to the event.
RSVP:
Limited slots left, RSVP here. 
PANELLISTS:
Chief Operating Officer | Good Doctor Technology
A surgeon by training with immense experience in management consulting and senior healthcare leadership appointments, Chet endeavors to apply his medical, industry, and tech transformation expertise towards the creation of a new digital normal for healthcare.
---
Chief Operating Officer | Microsoft
Keren is responsible for driving and implementing Microsoft's healthcare initiatives across the region as well as developing solution offerings and strategies that meet the needs of healthcare and life science customers. She also plays a leading role in establishing thought leadership by defining and articulating the company's vision for the future of healthcare and sharing how Microsoft technologies and partner solutions are making it a reality.
---
Vice President of Investments | MDI Ventures
Aldi brings with him extensive experience in investment, having supported over 100 startups across the world. He now leads MDI Ventures and Telkom Indonesia Digital Transformation where he works closely with entrepreneurs on go-to-market strategy, enterprise partnership, product development, international expansion, and fundraising. HealthTech is one of their focal areas for strategic investment so watch his moves!
---
Moderator:
Business & Program Director | BlueChilli
Hui Hong drives the delivery of the BlueChilli HealthTech Accelerator in Southeast Asia. She pulls together various stakeholders in the ecosystem and BlueChilli's in-house capabilities to see to a successful programme – building globally scalable HealthTech startups with founders and partners who are deeply relevant to problems worth solving.